Take the best baby monitor on the market last year, gather feedback from parents, draw a list of the most often requested improvements, and launch an update. That's exactly what the team behind the Nanit, the best-selling smart monitor of last year, set up to do with the Nanit Plus.
The Nanit Plus is virtually the same package as the first generation of the baby monitor but with a few extra features to ensure that this smart baby camera retains its crown at the top of our ranking.
Our Verdict on the Nanit Plus Smart Baby Monitor
The Nanit Plus Smart Baby Monitor is the best baby monitor of the year. The picture quality is outstanding, on par with the Miku smart monitor and clearly surpassing all the other baby monitors on the market at the moment. It's easy and safe to install. Its mobile app is intuitive to use. And it comes with tons of helpful little features, such as room temperature and humidity tracker.
It's simply the best high-tech baby monitor available today.
Warning: we're all a bit geeky at Baby Gear Essentials. And we're aware of our bias towards new tech stuff that can help improve our lives. But we also recognize that tech gadgets aren't for everyone.
If you're comfortable with the latest smart devices and want to discover the best in high-tech baby monitors, keep reading. But if you aren't, I suggest you skip this review altogether and check our VAVA video monitor review instead. The VAVA is a much simpler and straightforward baby monitor at a reasonable price. It's also the best radio monitor you can get at the moment.
With that said, let's dive into our review of the Nanit Plus to see if machine learning could really help you and your baby sleep better.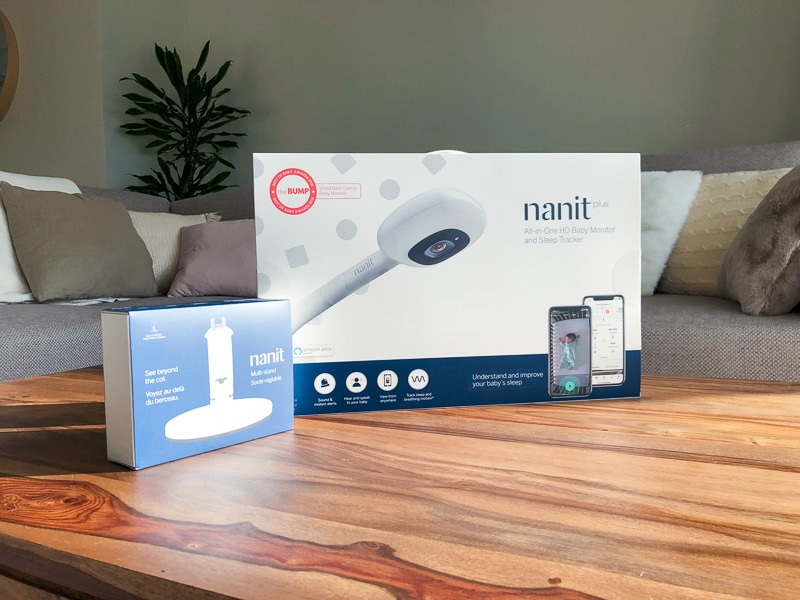 Helpful note
There is an older version of the Nanit camera that's still available on Amazon. It's similar to this newer version minus the two-way audio, the nature sounds and white noise, and some advanced user permissions.
You can get the previous generation model at a discounted price on Amazon if you don't need these new features.
There is also a new extended bundle that includes the new Nanit Plus with a breathing and motion detector package. The Nanit Complete Monitor System uses a swaddle or a band that you place around your baby to track their breathing and motion through the night. You can get it from Nanit for $379.
Our Rating: 9.8 / 10
Summary
We like:
Best overall video quality in our testing
Nanit mobile app is beautiful and easy to use
Daily insights are a game-changer and will help you improve your baby' sleep
Intuitive navigation when using multiple cameras
VOX, room temperature, humidity sensor, lullabies, white noise, moonlight soother, and more
We don't like:
It's the most expensive model in our tests
Where to buy: $299 from Nanit
Alternatives:
The Nanit First Generation Smart Camera if you want the best WiFi video baby monitor at a discount. It's nearly identical to the Nanit Plus minus a few recent upgrades (check price).
The Lollipop camera if you want a budget-friendly WiFi monitor with great video quality. It's one of our favorite monitor of the year as well (check price).
The Eufy SpaceView is the best Plug & Play monitor on our list at the moment. It comes with a dedicated parent monitor, a high-resolution video quality, and the prettiest design. It's (check price).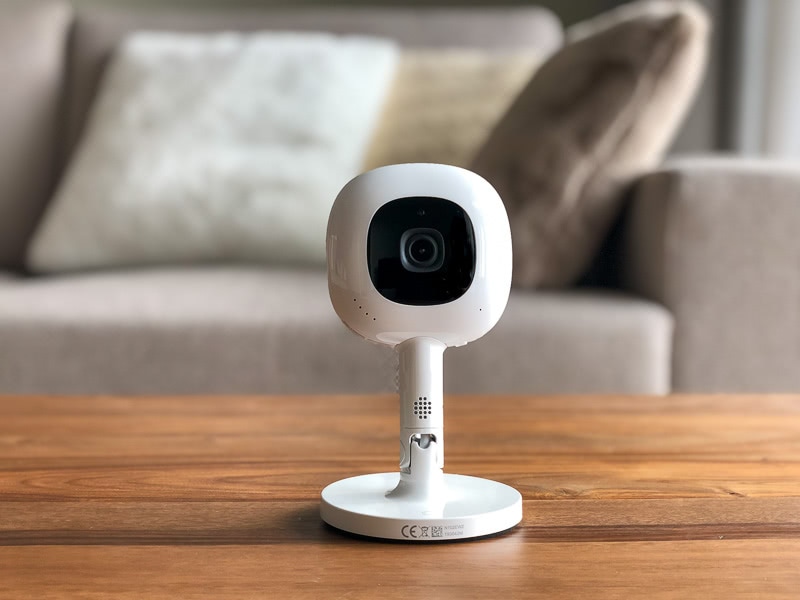 P.S. We received a review unit of this product from its manufacturer. We are, however, not paid or compensated for our review. To remain impartial in our tests, we use objective ranking factors and put each product in the hands of real parents for a few months before we publish our review. Read how we test to learn more.
Everything that we review is independently selected by our team. We only recommend products that we use ourselves with our kids. To support our website, we may receive a small commission if you buy something through our links. These commissions come at no extra costs for you. Read our earnings disclaimer to learn more.
Overview: Nanit Plus Cam Baby Monitor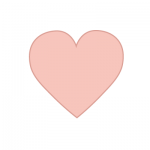 Health & Safety
9/10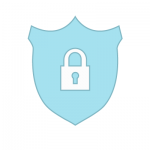 Privacy
8/10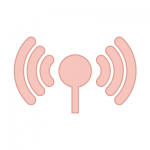 Range
10/10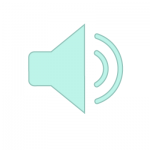 Audio Quality
9/10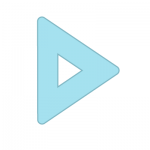 Video Quality
10/10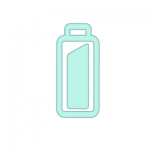 Battery
10/10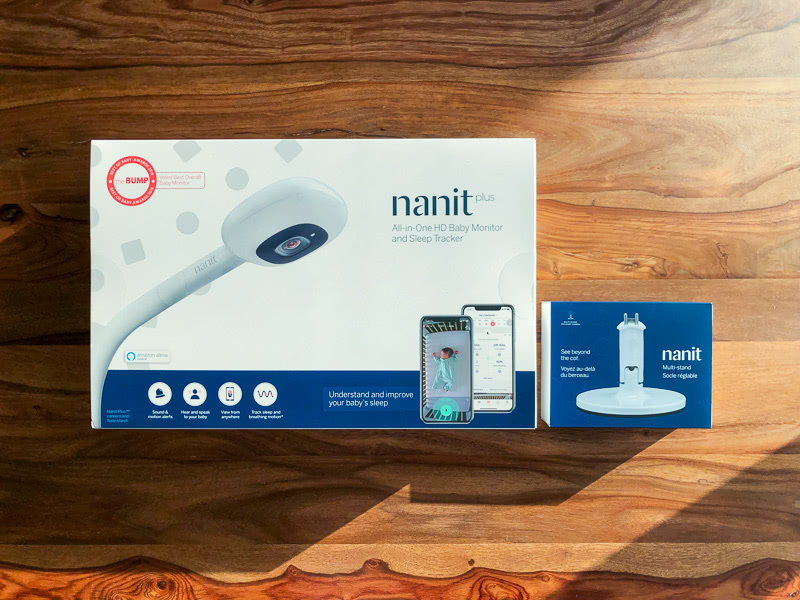 Features: Nanit Plus Baby Monitor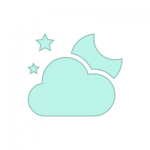 Infrared Night Vision
YES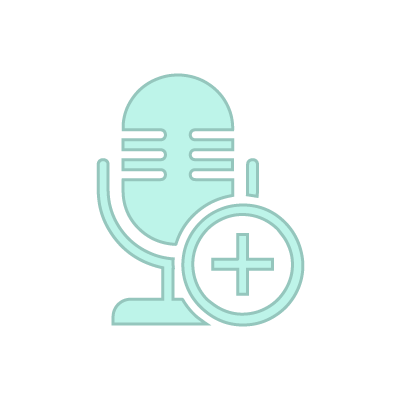 VOX
YES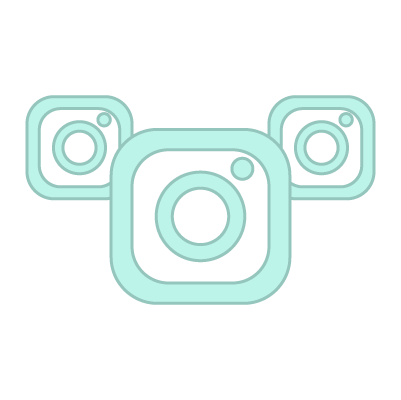 Multiple Camera
YES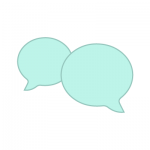 Two-Way Talk
YES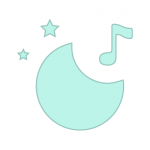 Play Lullabies
YES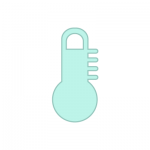 Room temperature
YES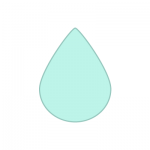 Humidity
YES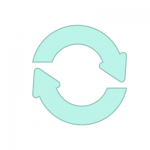 Remote Pan and Tilt
NO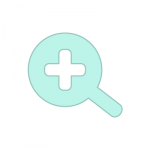 Remote Zoom
YES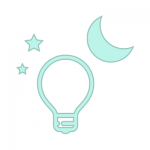 Nightlight
YES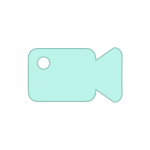 Video Recording & Snapshot
YES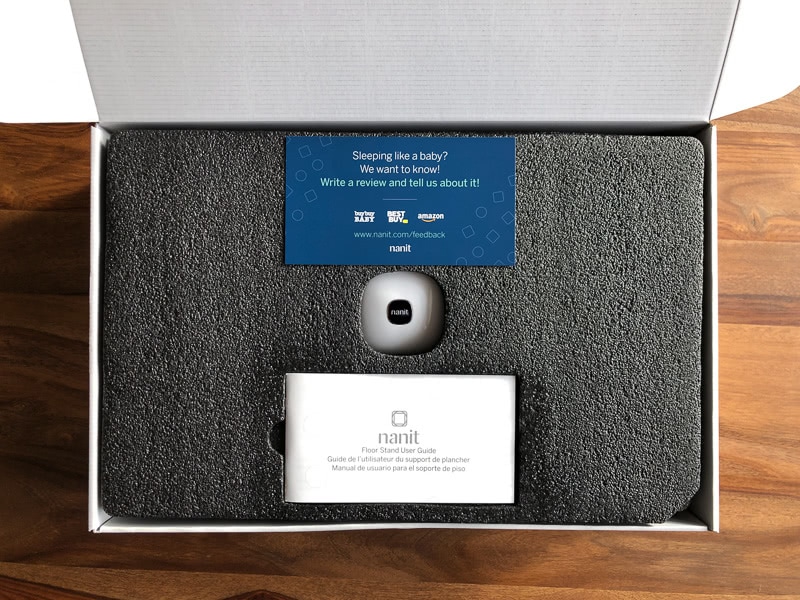 Our Hands-on Review of the Nanit Plus Baby Monitor
The Nanit Plus is simply the most advanced baby monitoring system available on the market today. After using it for six months now, I find the camera to be great, of course. But what's most valuable with the Nanit Plus are the insights I get every morning on my phone. It helped me improve the sleep quality of my baby girl. She went from waking up every three hours to completing an entire night of sleep most of the week now. As a result, we're both much more rested in the morning and overall happier.
Every time I talk about the Nanit Plus to my friends, their reaction is the same:
And that's indeed how I feel when I think back on the monitor I used with my first child.
The Nanit mobile app is smart enough to help you identify certain patterns that might affect your baby's sleep quality. Nanit will send you personalized recommendations made in collaboration with pediatric sleep doctors. It will also keep track of when your baby is awake or asleep and how often you had to come to check on them through the night.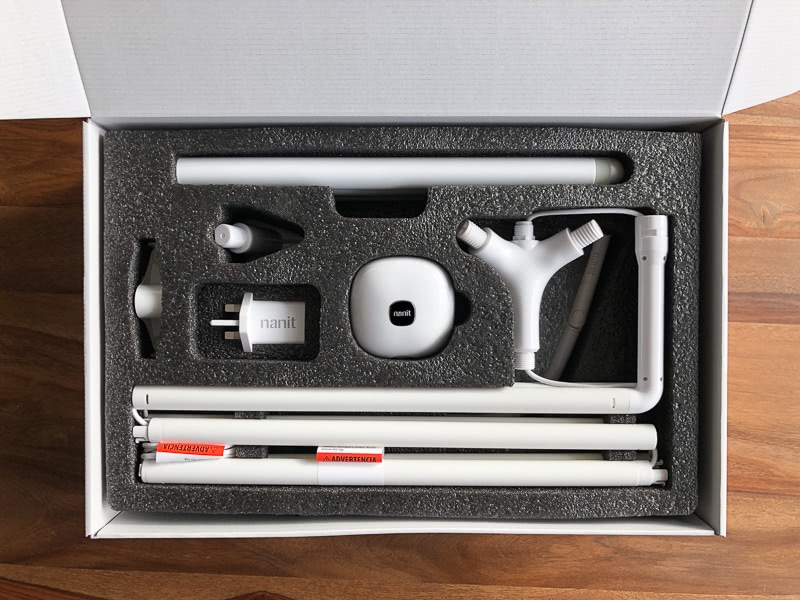 That said, the Nanit Plus isn't for everyone. There are much cheaper video baby monitors available that are less complicated to use and will do the job just as well.
In the end, it really depends on what you expect from a video baby monitor. The Nanit Plus high price ($299 if you buy directly from Nanit) is only justified if you want to take advantage of all the extra insights that it will give you.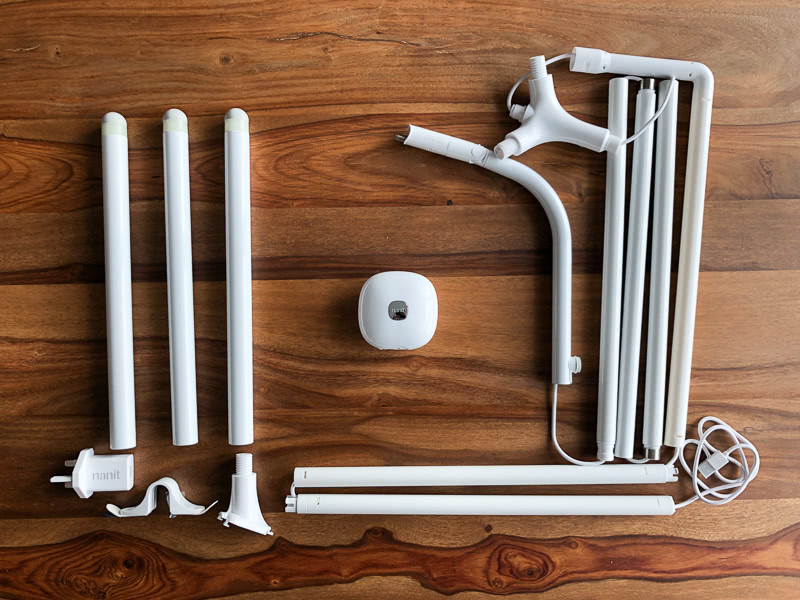 Nanit Plus vs Nanit first generation: What's new with the new model
When it first launched in 2018, the Nanit first-generation received unanimous praise. TIME Magazine called it one of the "Best Inventions of 2018." We took our own time to test it thoroughly before jumping on the bandwagon, but our hands-on experience with the baby monitor confirmed what we already expected: Nanit was truly a game-changer.
The camera pretty much ticked all the boxes in our review. They were a couple of things that it lacked, however. The most important of these, in our opinion, was the option to talk to your baby through the camera.
The Nanit team listen to its users and released an updated camera soon after, the Nanit Plus. On the outside, the Nanit Plus is virtually indistinguishable from the first-generation model. Same camera with the same picture quality. Same installation system. On the inside, however, we find a few important improvements.
First off, the Nanit Plus now comes with a two-way talk option. You can just press a button in the app to speak directly to your baby through the camera. This is great to quickly soothe your kid. I used this all the time with my baby girl so she wouldn't start crying out loud and wake up her brother next door.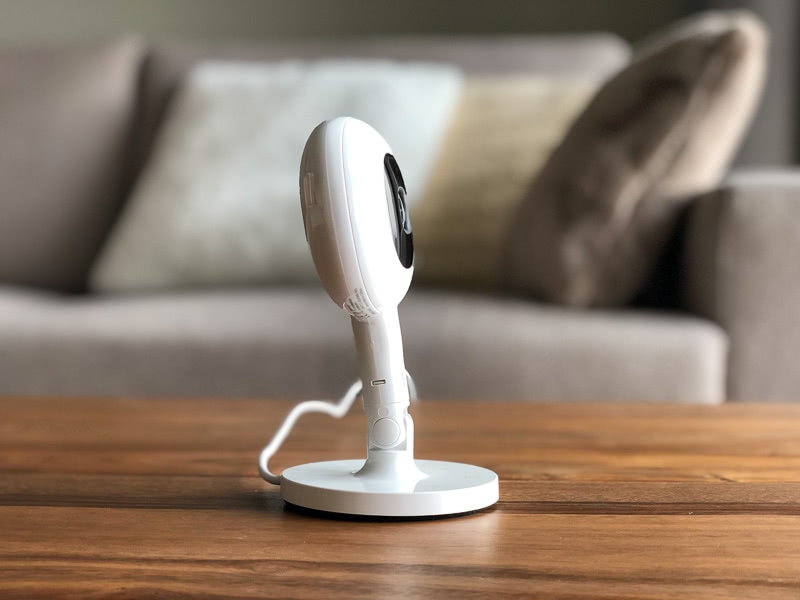 The second new feature is the option to play nature sounds and white noise through the camera. The first generation of the baby monitor already had lullabies, but if they aren't to your baby's liking, you now have more sound options to choose from. You can select from pre-recorded sounds of crashing waves, softly chirping birds or gently humming white noise.
Finally, the third new feature has to do with the security of the video sharing options. Nanit implemented advanced user permissions to let you more easily grant or remove access to the camera. For example, you can now turn on the access temporarily for a babysitter if you go out for an evening, and switch it back off once you're back home. That way, your babysitter can't continue to access the video or the audio from the monitor when you don't want to.
Everything else in the Nanit plus remains exactly the same. As a result, the rest of our review will be nearly identical to our review of the first-generation camera.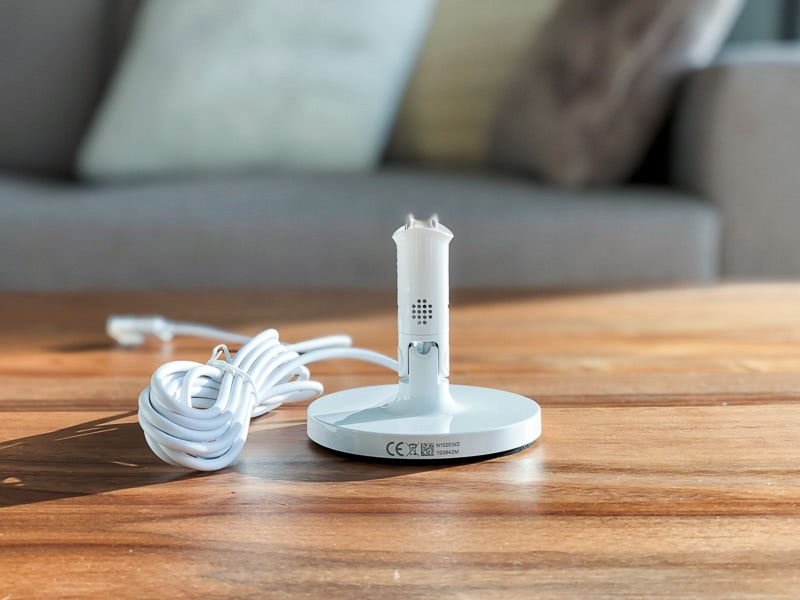 Audio and Video quality
The audio and video quality with the Nanit monitor is excellent. You get a 1280×960 resolution camera, which is double the resolution of every other camera in our tests (except the iBaby Care M7 at 1080p).
If you bought your mobile phone or tablet in the past 4 years, the picture will look great on your screen.
You'll get a smooth video streaming experience as long as your Wifi connection is reliable. And because it's streaming on the Internet, you can access the video feed even if you're not home. If you're having dinner outside, you can just check on your baby with your phone to make sure the babysitter managed to put them to bed on time. You can also share it remotely with other family members if you want.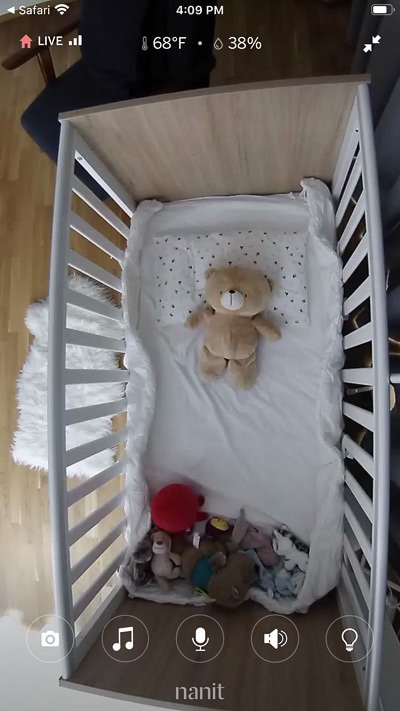 The Nanit camera has 10 infrared LED bulbs to give you a crystal clear night vision. You'll be able to see your baby clearly even in the dark or low light. The camera will automatically switch to night mode once the light is too dim in your baby's bedroom.
You can zoom in easily with your fingers on your phone, as with most of the other Wifi baby monitors in our tests. But unlike the other monitors, the quality of the picture with the Nanit remains excellent thanks to its higher resolution camera.
Unlike most of the other baby monitors in our tests, however, the Nanit camera doesn't remotely pan or tilt. That's because you'll need to wall-mount the Nanit directly above your baby's bed if you want the Nanit Insights to work. Nanit's sleep tracking technology is indeed only able to recognize your baby's movements when it has an unobstructed view of the crib from above.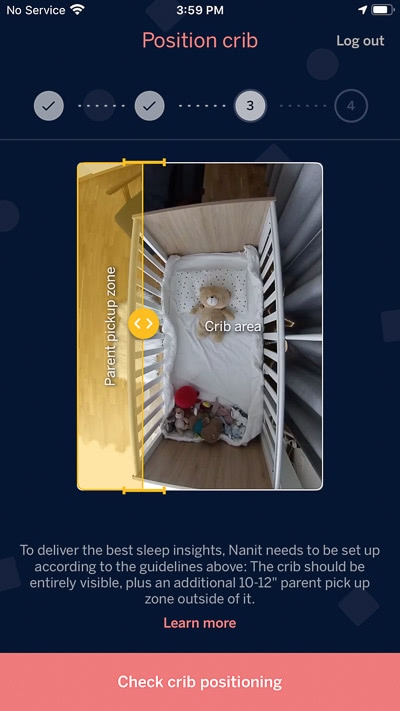 Installing the overhead camera directly above your baby's bed has some clear advantages (e.g. better view of the crib, cleaner cable management) but it seriously restricts your options. You can get the bundle with the extra floor stand mount if needed though.
Nanit camera installation
The fact that you need to install the camera directly above your baby's bed is an important thing to keep in mind when purchasing the Nanit. You might have to move your baby's crib around the room to make it work.
You can either wall-mount the camera using the wall mount that's included in the box. Or you can purchase the bundle with a floor stand mount ($219.99 but only available for the older model at the moment).
For the wall mount, you'll find a piece of plastic in the Nanit box to help you mark the placement of the holes that you need to drill.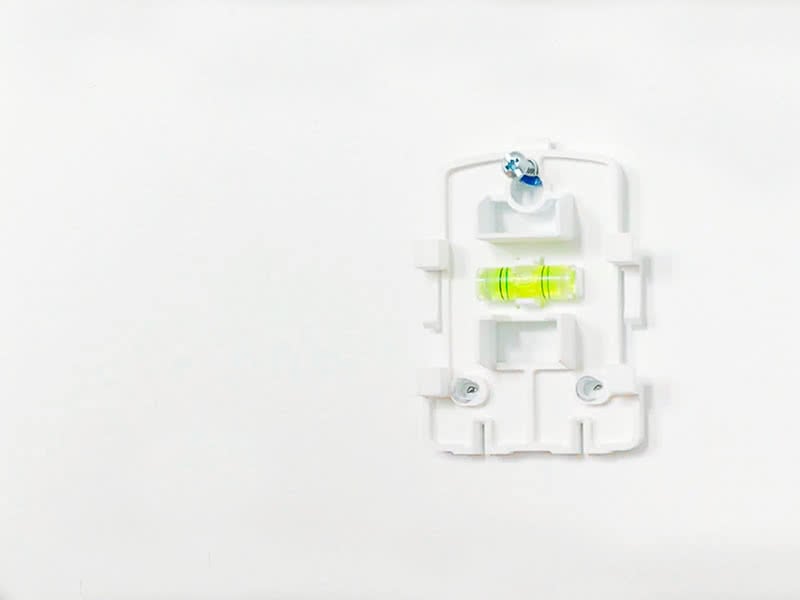 The camera itself needs to be pointing directly at the center of the crib, so be careful when deciding where to place it. Especially since the orientation of the camera can't be changed from landscape to portrait mode.
The wall mount comes with a plastic cover for the power cable, so it can be safely attached to the wall and kept away from inquisitive little hands.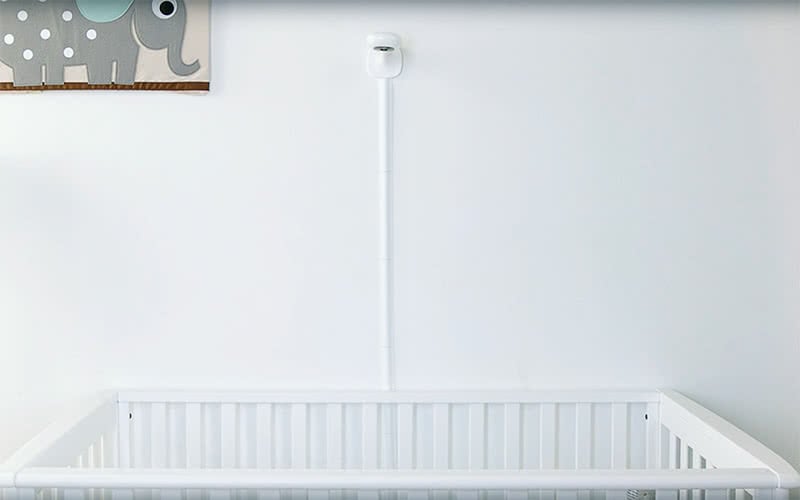 Once the wall mount is fixed on your wall, you just need to clip the camera unit and you're all set. You can then easily detach the camera to take it away when traveling (but you'll need the Nanit Multi-Stand that's sold separately for $49.00).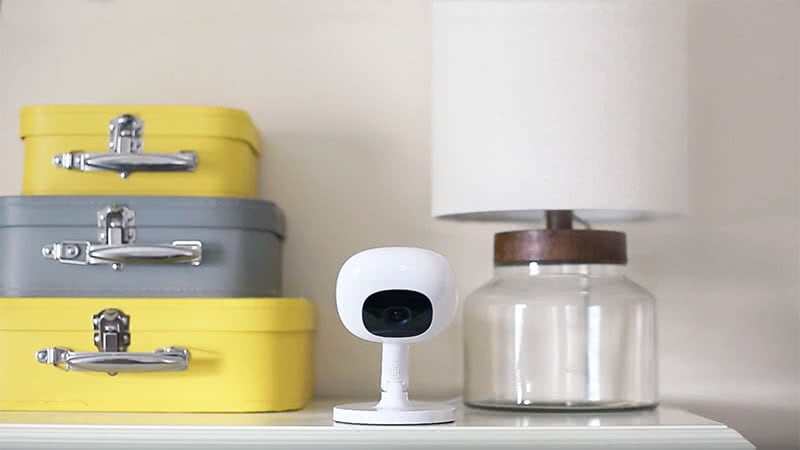 The multi-stand mount, when placed on a shelf, for example, won't have the top-down view on your baby's bed though. So while you'll still be able to see your baby sleeping and hear any noise, you won't be able to use the Nanit Insights feature. The multi-stand does come with an 8' cord though, so you should be able to easily find a plug to power it on.
If you don't want to drill holes in your wall, the other option is the floor stand mount. You can select that option when purchasing the Nanit Plus from the official website if you prefer.
The floor stand mount is basically like a lamp. The material is heavy and sturdy and won't risk being knocked off by someone walking by. That said, the floor stand is best when used with the support of a wall to stand… It's a bit bizarre, but it only comes with two legs, so it's more stable when it rests along a wall.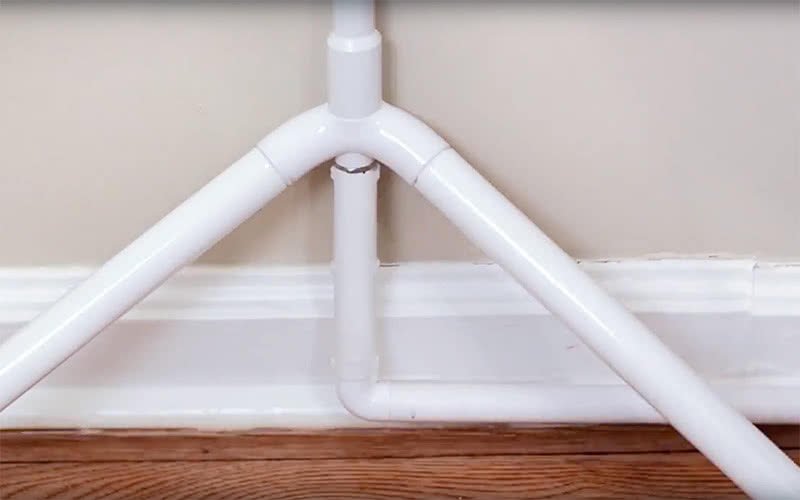 The Nanit mobile app (the parent unit)
Kudos to Nanit for designing one of the most user-friendly mobile apps for its baby monitor. Everything is intuitive and beautiful. You can download the Nanit app for Android and iOS, register your account and you're all set.
There are four tabs at the bottom of the app to help you navigate from the live view of your baby, the activity tracker, the insights dashboard, an inbox, and the app settings.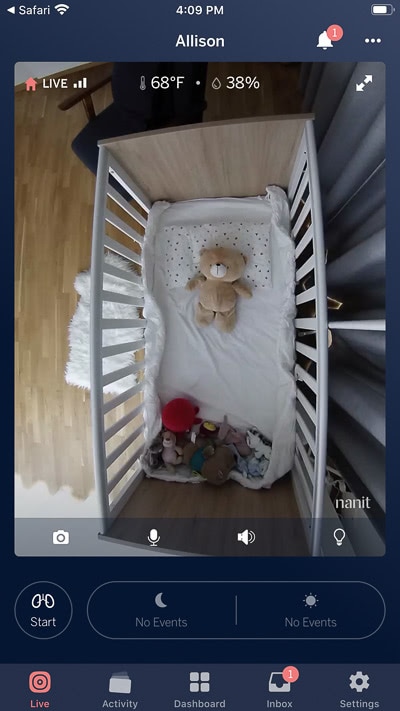 The Live feed shows up in full screen and looks great thanks to the HD camera. You can take a photo with the bottom right button, play a lullaby, or turn on the night light. You can also see the room temperature and humidity.
Unlike most of the other Wifi monitors that use your phone as the parent unit, the Nanit has a VOX mode, meaning that it works even if your screen is off. The app will run in the background and only notify you when needed. You can also have your screen off and just keep the audio to hear your baby. It's a massive advantage as a continuous live video stream tends to empty a phone battery very quickly.
And if you have an old iPad lying around the house, it will make for the perfect dedicated parent unit to watch the video in full screen. Just make sure to keep it plugged in because it will drain the battery very quickly.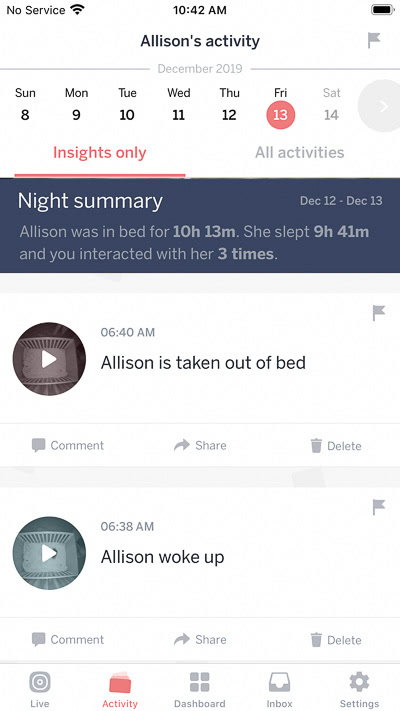 The Activity tab is where you'll find a chronological list of everything that the camera tracked while your baby was in bed. The app will even compile video summaries of your baby's night so you can check in the morning how their night went.
You might be surprised to see that there is a lot of movement going on there. The history of each night will be kept for 30 days if you take the standard Nanit subscription, but you can keep it forever if you take the more expensive Nanit unlimited subscription for an additional $200 (which seems unnecessary). More on that in the next section.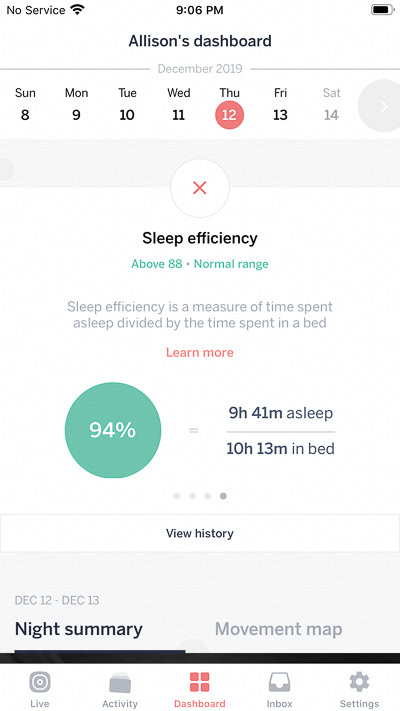 The central option is the Dashboard showing you four key data points to help measure the quality of your child's sleep for each day of the week. You can see there how much time your baby slept, at what time they went to bed, how many times you come into their room and a sleep efficiency score. It's a handy and simple way to see how your baby sleeping patterns are improving each night.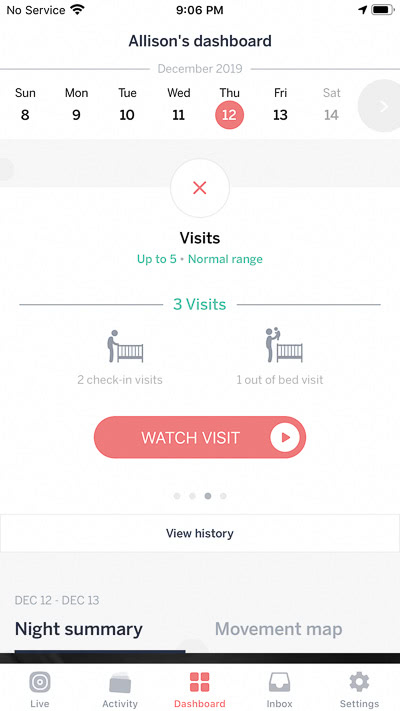 Next, you have an Inbox tab where you'll find personalized recommendations from Nanit to help you and your child sleep better. As mentioned above, Nanit is partnering with pediatric sleep doctors to share the latest studies in child sleep and help you teach your child to sleep better.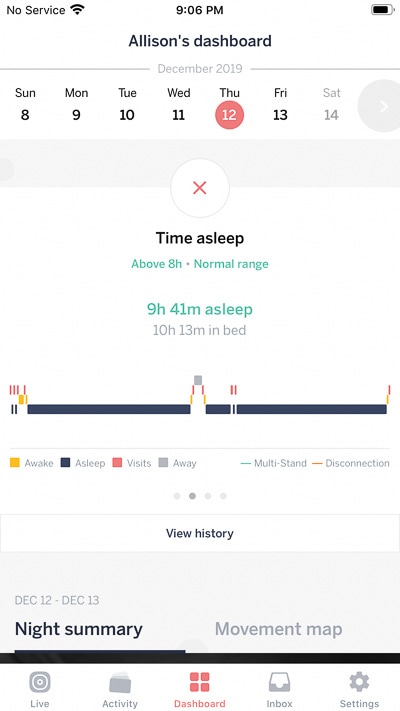 From what we've seen so far, it's especially useful to parents with very young infants who are still struggling to complete their nights.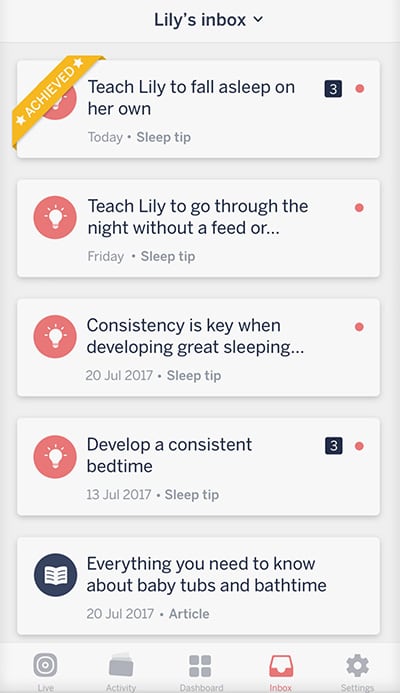 Finally, there is a Settings tab where you can configure the app. When you set up the camera for the first time, you'll go there to identify the area of the image that needs to be tracked by the motion sensor (your baby's crib).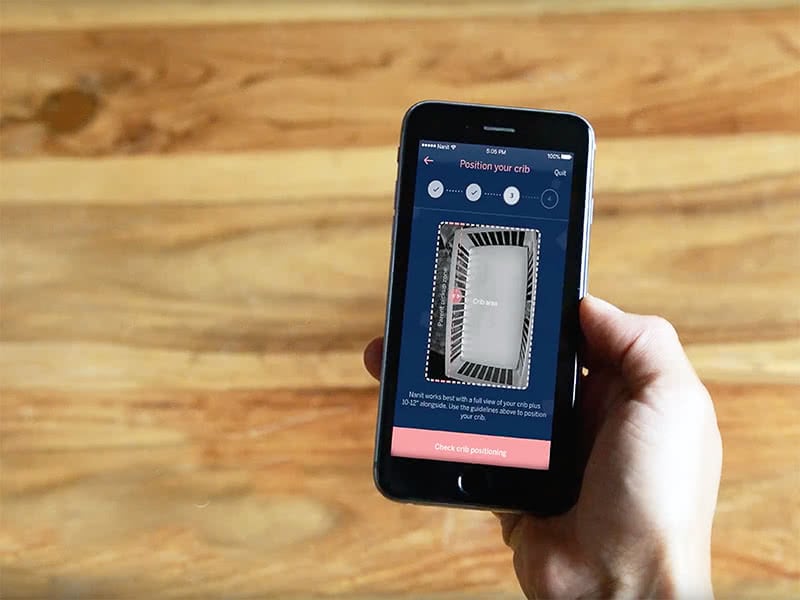 It's also in the settings that you'll be able to add more viewers (your partner and your parents, for example) or more camera units if you have more than one baby at home. You can also adjust the sensitivity level for the push notifications that the app will send you. We had to do as the app was alerting us too often when it picked up other noises around the house in its default mode.
The Nanit Insights subscription
The Nanit Insights is the main reason why people will buy this baby monitor. It comes as a separate subscription model that you can take when setting up the camera for the first time. You don't have to take it, but without Nanit Insights you would really be missing on the essential features that make this baby monitor so interesting.
You can opt for the standard Nanit Insights subscription for $100 a year. Or upgrade to the Nanit Insights Unlimited subscription for $300 a year. The only difference between the two is that the standard subscription will only keep your baby' sleeping history for 30 days, while the unlimited version will keep it forever.
Frankly, we don't see why you would need to pay the extra $200 for the unlimited version. You can always save the videos and photos in your private album if you want to. Google Photos, for example, offers free and unlimited storage for high-resolution photos and videos.
Now the way this works is that the live camera feed will be sent over to Nanit' servers to be processed by a machine learning algorithm that will then send you back personalized reports and suggestions. The idea is that it should help you improve your baby sleeping patterns.
The morning reports that we mentioned above, with the time-lapse summary of your baby's night, are generated thanks to this system. The stats, analysis, and personalized recommendations are also coming from the Nanit Insights. Over time, the suggestions get better and better as the system learns your child's habits and compares them with other babies in the same age group. You'll know, for example, if your child is sleeping better, on pare, or worse than other kids of their age.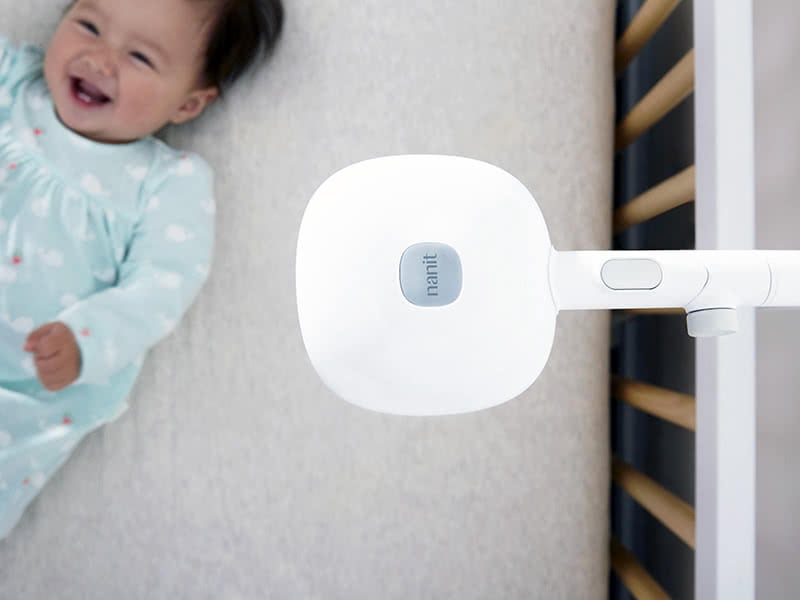 Overall, we found it fairly good at identifying the most important moments of the night and tracking the evolution of our child's sleep day by day. But, it's important to know that the Nanit Insights program will collect and accumulates data on your baby. That data is then anonymized and combined with all the other members of the programs to train Nanit Insight machine learning algorithm and improve its recommendations over time.
There's no way to opt-out of that system but Nanit currently working on an update to let you remove your data if you want to (thank you GDPR).
Every Wifi baby monitor will send your baby's live stream over the Internet. Which opens the door to serious privacy and security concerns. Nanit takes it one step further by having its computers analyze the video. There are basic safety steps that you can take to protect your family against security concerns (see the next section), but we think it's important for you to understand what it means before buying the Nanit camera and its subscription.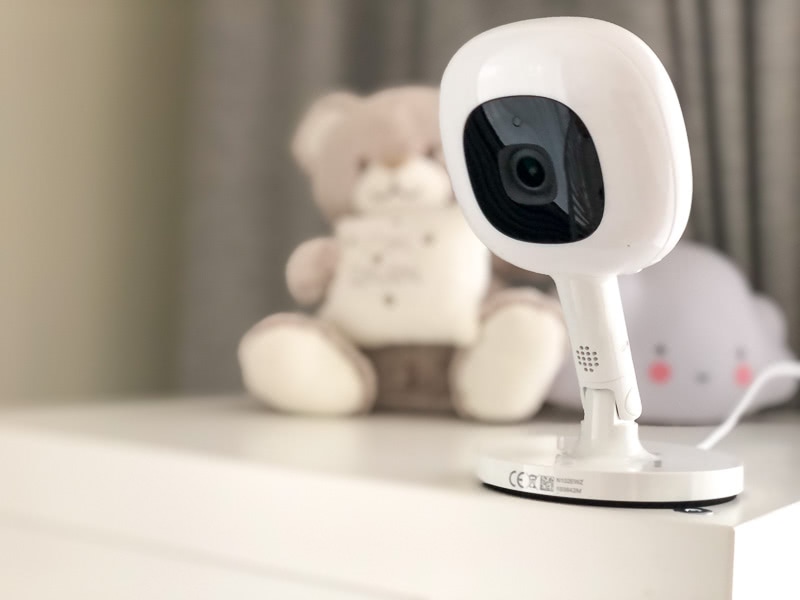 Security: Nanit camera hacking
Because the Nanit camera is using your Wifi connection to stream the audio and video, it's potentially more prone to hacking than radio monitors. Unlike an encrypted radio signal, such as FHSS or DECT, Wifi baby monitors do not require you to be in physical proximity of the camera to see what's happening.
That means that if a hacker manages to breach your router security, they could tap into your baby monitor. You should read this article on baby monitor hacking to make sure that you understand the risk and learn how to appropriately protect yourself.
That said, Nanit went the extra mile to ensure that safety and security were improved with their baby monitor. All data and communications are encrypted and unidentifiable, using a 256-bit symmetric-key encryption. In addition, the data can only be shared between Nanit' servers and your own devices. It is HIPAA-compliant, for example, so it meets Federal standards for having sensitive health information shared online.
Nanit baby monitor Health and Safety
Since the Nanit baby monitor uses your existing Wifi network to stream its audio and video signals, it reduces the total number of electromagnetic exposure to your baby. Which is a good thing, of course. Baby monitors that use FHSS or DECT signals need to emit their own radio signals on top of your Wifi connection, which might rapidly exceed the Environmental Protection Agency's recommendation. Read our article on electromagnetic field if you want to understand what it means in terms of health and safety for your baby.
Nanit smart camera: What's in the box
Wondering what's in the box? Here's everything that will be included in the standard Nanit package:
1 x Baby monitor unit (the camera)
1 x Power Adaptor
1 x Wall mount base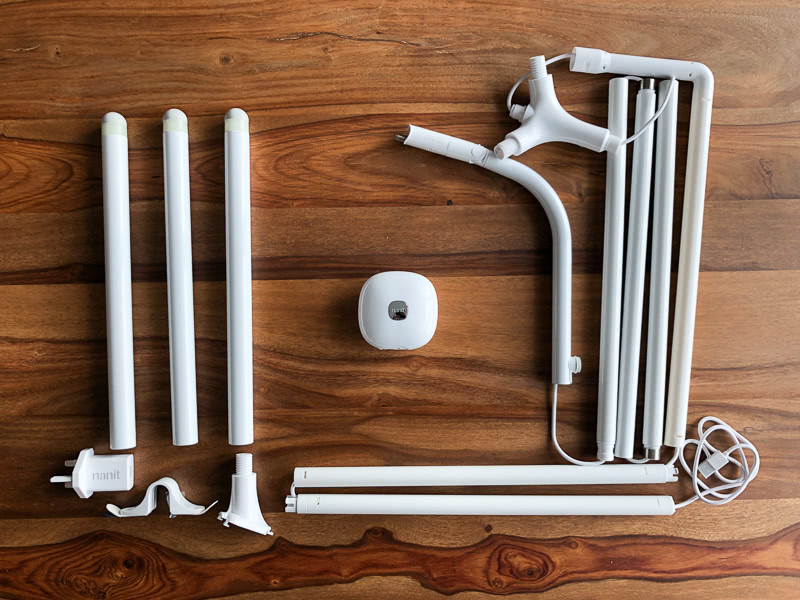 You can also purchase the Nanit floor stand mount package if you don't want to drill holes in your wall. Note that it won't include the wall mount.
Nanit Baby Monitor Price
You can buy the Nanit Plus camera directly from Nanit's official website for $299.
The Nanit Insights subscription is free for the first year then $9 per month if you want to keep it after that.
Nanit Baby Monitor iOS and Android Mobile App
You can download the Nanit mobile app on the iOS App Store and Android Play Store.
Alternative Options
The Nanit First Generation Smart Camera if you want the best WiFi video baby monitor at a discount. It's nearly identical to the Nanit Plus minus a few recent upgrades (check price).
The Lollipop camera if you want a budget-friendly WiFi monitor with great video quality. It's one of our favorite monitor of the year as well (check price).
The Eufy SpaceView is the best Plug & Play monitor on our list at the moment. It comes with a dedicated parent monitor, a high-resolution video quality, and the prettiest design. It's (check price).
Nanit Plus Baby Monitor: Most Frequently Asked Questions
What is the difference between the Nanit Plus and the Nanit?
The Nanit Plus comes with three new features: a two-way talk option, the option to play nature sounds and white noise, and advanced user permissions. Everything else in the Nanit plus remains exactly the same as the first Nanit.
Can I use multiple cameras with the Nanit plus?
Yes. If you have multiple Nanit cameras paired to your account, you can switch between them by tapping your child's name at the top of the Live, Activity, and Nights tabs. You should contact their support team to request pairing more than five cameras though.
Can I see more than one camera at a time?
No. The Nanit mobile app supports multiple paired cameras at the same time, but you can only see one video stream at a time.
Does the Nanit Plus work with Alexa, Google Assistant, Apple HomeKit or Siri?
Nanit now works with Alexa, as of Fall 2019. You can receive notifications on your Alexa enabled speaker, such as the Echo Dot. It is, however, not yet compatible with Google Assistant, Apple HomeKit or Siri.
Is the Nanit floor stand included in the box?
You can select to get the Nanit Plus with a wall mount or a floor stand when you purchase it from Nanit's official website.
Is the Nanit Plus HSA or FSA eligible?
Yes. As of August 2019, the Nanit Complete Monitoring System and Nanit Breathing Wear are eligible for purchase using HSA and FSA funds. The ability to use your HSA or FSA account to purchase baby products is a great opportunity for tax benefits and savings.
What is the Nanit Plus warranty?
The Nanit Plus camera comes with a standard one year warranty. We recommend you contact Nanit if you experience any issue with your model after purchase. You can call them during normal office hours or email their customer support team. Their response time is relatively quick.
What is Nanits' customer service number?
If you're calling from the US, you can contact Nanit by phone: 001 866 696 2648. You can also email their support team. Their email support center should get back to you within 24 hours.
Model reviewed: Nanit Plus smart baby monitor
Our rating: 9.8 / 10
Summary: The Nanit Plus is the best baby monitor of the year. With its high-end tech, it can help improve your baby sleeps. Read our Nanit Plus review to see if this is the right WiFi monitor for you.
Reviewed by: Samantha Woodworth
Last updated: January 7, 2021