If you're looking for the best stroller of 2021, look no further! 
We've done the research. We've tested the models. We're here to make this choice easy for you.
A good stroller can completely transform life with your child. The best strollers can make your day-to-day easier, more comfortable, and certainly even more convenient.
A good stroller can be an investment, though. You've got to be sure that you're getting the right stroller for you and your family. With this roundup, we're helping you make that complex decision a piece of cake.
We tested the most popular infant stroller brands to give you a real-life, hands-on review of our favorite recommendations!
We've noted specifics about baby safety, parent experience, how easily these strollers can be stored, folded, carried, and more so that you truly have all of the information you need to choose the stroller that's best for you and your family.
Before you look at the strollers in our lineup, take a moment to think about the type of stroller you will need. Are you looking for a stroller that gives your newborn the support they need? Do you live an active lifestyle and need a stroller that can keep up with you no matter where you need to go?
There are no bad options in our lineup, and each one is definitely safe for your child. However, some models will work best for your specific needs!
Overall, we find the Summer 3DLite to be the all-around best stroller of 2021 for most people. It's sturdy yet sophisticated and meets the needs of most lifestyles–and looks good doing it. 
If you're able to stretch your budget, however, we love the upscale styling and luxurious features of the The UPPAbaby Cruz V2. This model is also easy to put together, fold, and maneuver around town, making it a highly convenient choice.
If you're looking for a jogging stroller that can double as the one you use everyday, the Joovy Zoom Ultralight is the best option on the market right now. With an ultra-durable frame
After our ranking, you'll find a quick explanation of our methodology, so you'll know how we tested each stroller. We also created a helpful list of the most important things to consider when shopping for a stroller.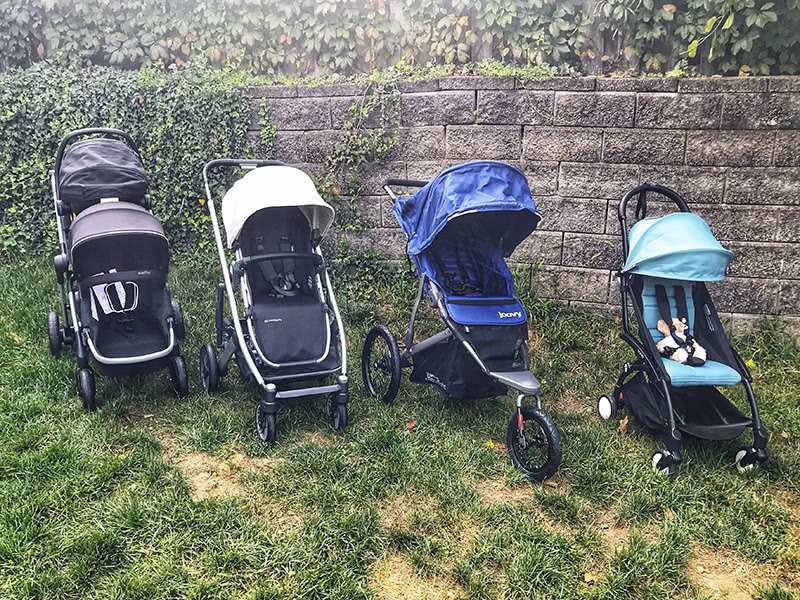 The 9 best strollers of 2021
Summer 3DLite: Overall Best Stroller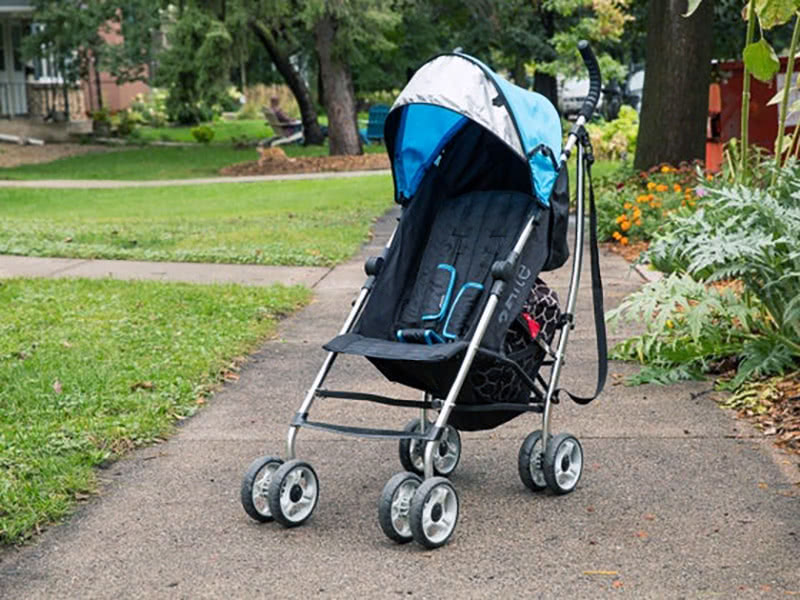 Read our in-depth review of the Summer 3DLite Convenience Stroller.
We like:
That the 5-point harness system is easy to use (and adjustable – grows with your child!)
The suspension system in the front wheels helps the stroller glide
The handlebars are padded and also adjustable
The design is very lightweight and compact
The seat reclines to multiple angles, including almost-flat
We don't like:
The lack of canopy window for easy check-ins on your child
This stroller doesn't stand up when it's folded (a nice feature in other strollers)
The storage isn't quite large enough to support large bags (for, say, convenience during shopping)
Where to buy: Check price on Amazon
If you're interested in the stroller with the best balance of features and compact portability, the Summer 3DLite Convenience is an excellent option. We tested it to see if it delivers on performance for a low price, and are happy to report that the 3DLite provides excellent support for both parent and child.
For a low price, this stroller offers durable comfort and lightweight compactness. We love that it's easy to use – and the suspension you get for the price is a great touch!
UPPAbaby Cruz v2: Best Premium Stroller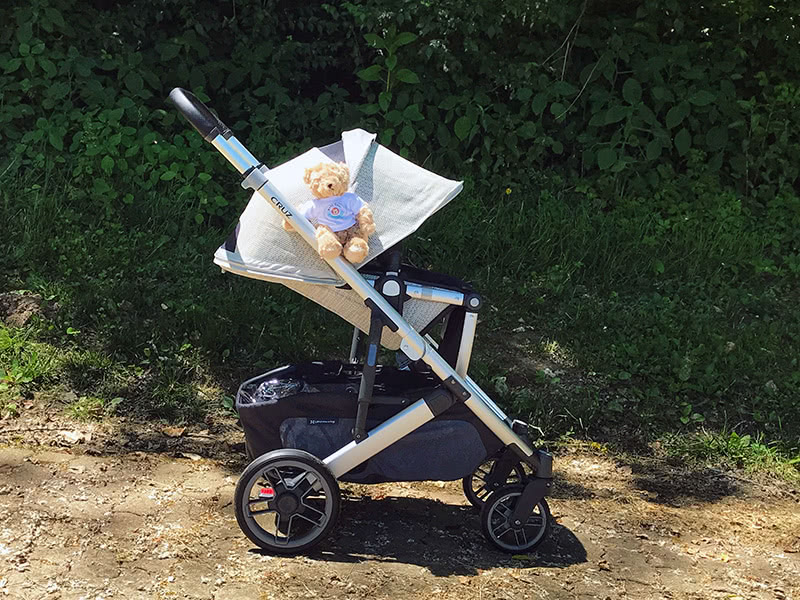 Read our in-depth review of the UPPAbaby Cruz V2.
We like:
The full-grain leather accents
The subtle visual indicators which provide intuitive instructions
The roomy storage basket
The absorbent suspension which gives the Cruz V2 a gliding feeling
We don't like:
The slightly elevated price
The fact that it does not offer infant support out of the box
Where to buy: Check price on Amazon
If you can stretch your budget to get the absolute best of the best, the UPPAbaby Cruz V2 is our favorite premium stroller of 2021. 
It looks and feels premium with its high-quality frame, comfortable seat, and roomy storage space. And it gets bonus points for its sophisticated look and luxurious finishes. We absolutely love it!
Evenflo Pivot Xpand: Best Value Stroller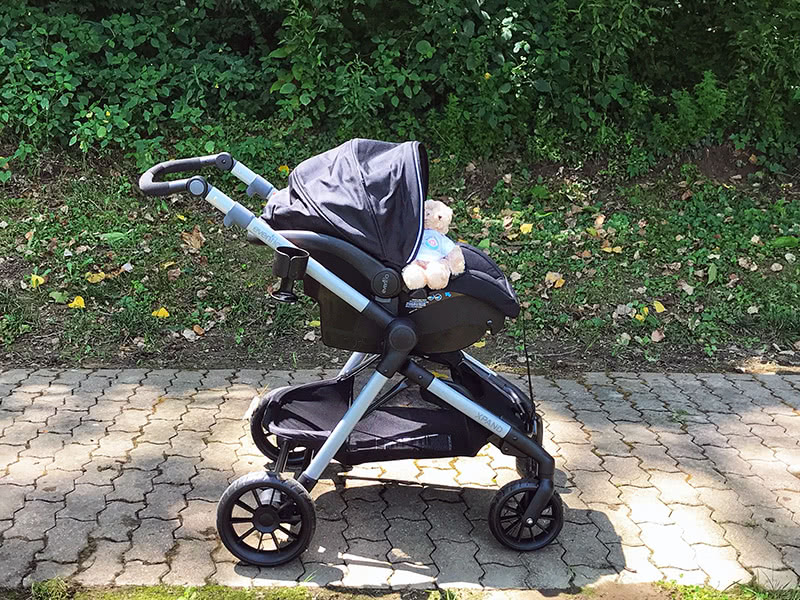 Read our hands-on review for the Evenflo Pivot Xpand.
We like:
The comprehensive versatility of this set
The low price – high value, budget-friendly cost
One stroller system from infancy through young childhood
We don't like:
Assembling and converting this stroller is not initially intuitive
Lesser-quality fabric (not as soft) as others we've seen
The heavy weight – can be bulky when all parts in use
Where to buy: Check price on Amazon
While not quite as high-end as other strollers we've seen, the Pivot Xpand is our favorite for value. For its price, the entire system is a great bargain. The car seat has excellent safety ratings, the stroller folds down compactly, and it can grow along with your family.
Joovy Zoom 360 Ultralight: Best Jogging Stroller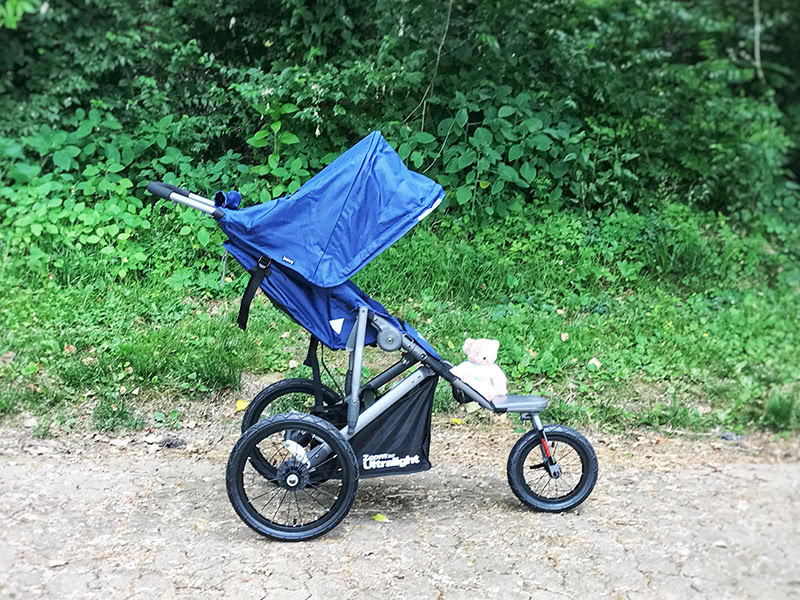 Read our Joovy Zoom 360 Ultralight hands-on review.
We like:
The compact shape and size to which the stroller folds;
The reliable brakes and wheel locks;
The sturdiness of the lightweight, aircraft-grade aluminum frame
We don't like:
The tent-like feel of the fabric;
The high amount of pressure needed to release the brake;
The tires have to be monitored and kept fully pumped.
Where to buy: Check price on Amazon
Sometimes, you're looking for a stroller that can match pace with your active lifestyle. A regular stroller might not cut it: You need something with upgraded suspension to cradle your child, tires that can handle jolts and bumps, and a durable frame for added stability.
You'll find all that in the Joovy Zoom 360 Ultralight. We love this stroller as the best jogging model on our list. However, it's versatile enough to act as a day-to-day stroller, too.
(Note that you'll likely find this a good option if your child's a little older, as jogging with a very young infant may not be entirely safe.)
Baby Jogger City Select: Most Practical Stroller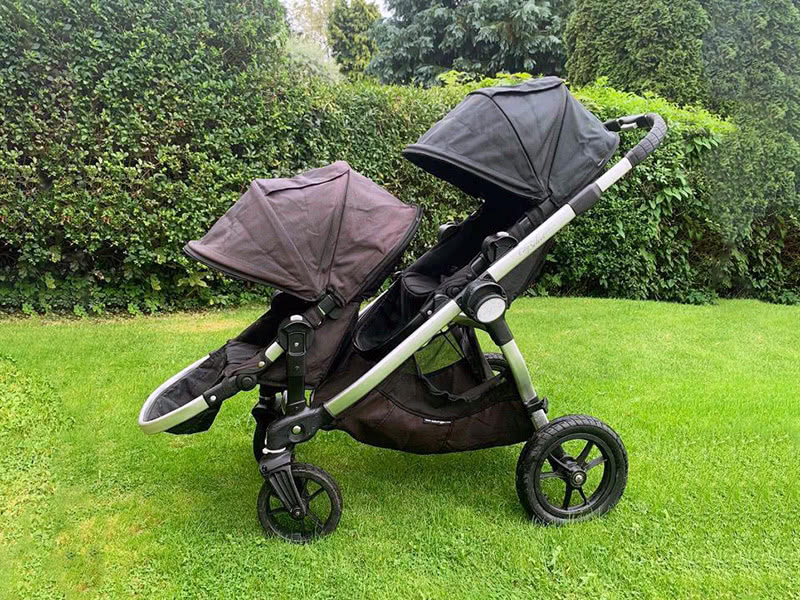 Read our Baby Jogger City Select in-depth review.
We like:
The versatility of the various configurations
The ample amounts of storage
The durability of the fabric and frame
We don't like:
The fact that it took longer to put together
The added bulk, which does take some time to get used to
Where to buy: Check price on Amazon
If you have one child and are expecting another, the Baby Jogger City Select is the perfect option to support your family now – and in the future. Its durable fabric, convenient storage, and (of course!) its built-in versatility truly makes it one stroller that could support a growing family.
We love it for its practicality, but it also looks good strolling down the street. Its bright colors and slim frame made it a stroller we liked using in our tests.
Graco NimbleLite: Most Lightweight Stroller
Read our Graco NimbleLite in-depth review.
We like:
The NimbleLite is easy to assemble
This is a very lightweight stroller (the lightest in our roundup!)
Despite a good number of features, it's simple to use
The sun shade is larger than many similarly-priced models
The parent organizer and (dual) cup holders are very convenient
The child seat reclines from a 90-degree angle to almost-flat
We don't like:
The handlebars are quite tall, and you can't adjust them
The two pedals for the brakes
The awkward handling of the belly bar (need to fully remove the bar to seat your child)
There isn't much cushioning in the seat
This stroller doesn't stand when folded, making immediate storage preferable
Where to buy: Check price on Amazon
Looking for something lightweight? If you're like us, you need a stroller that does its job without weighing you down. This stroller makes life as a parent easier with its feather-light heft. Struggling to stow a heavier stroller? Trying to figure out storage options for bulkier options? No more!
With the Graco NimbleLite, you'll be able to use your stroller and toss it in the car or storage without a second thought. We love how simple it can make errands, travel, and more!
Babyzen YOYO2: Best Travel Stroller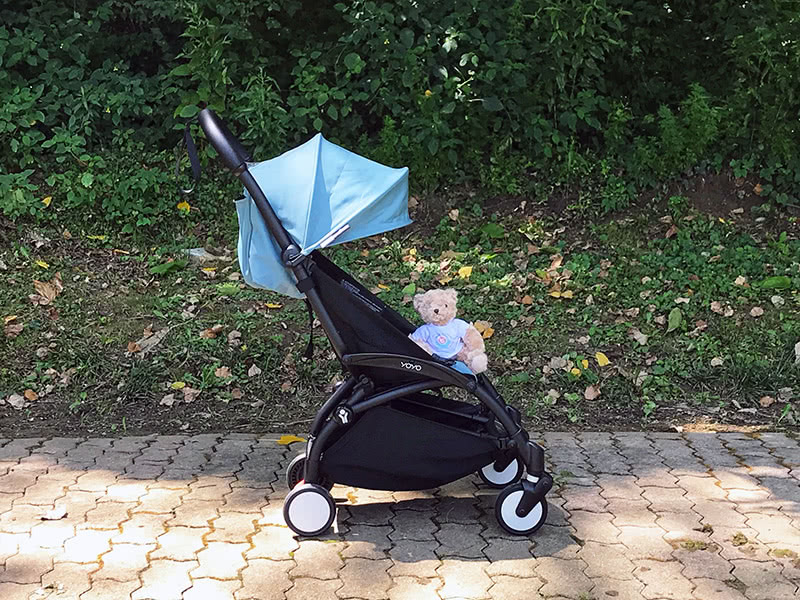 Read our hands-on review of the Babyzen YOYO2 stroller.
We like:
Its incredibly compact size
The fact that, with both color packs, this is a stroller which can follow your child from birth to toddler age
Its extreme ease of assembly
We don't like:
The latch to hold your child in can be puzzling
Folding the Babyzen YOYO2 stroller takes a moment to figure out
Where to buy: Check price on Amazon
The Babyzen YOYO2 stroller is a beautiful stroller with modern design that is so compact, it can literally be folded up and toted around over your shoulder!
With an included carrying bag and cushioned strap, this stroller is geared for easy travel. It can fit in most airplane overhead bins, and it unfolds easily so you can get going quickly once you're ready to stroll.
With the inclusion of both color packs, it can follow your child from infancy through toddlerhood.
Kolcraft Cloud Plus: Best Budget Stroller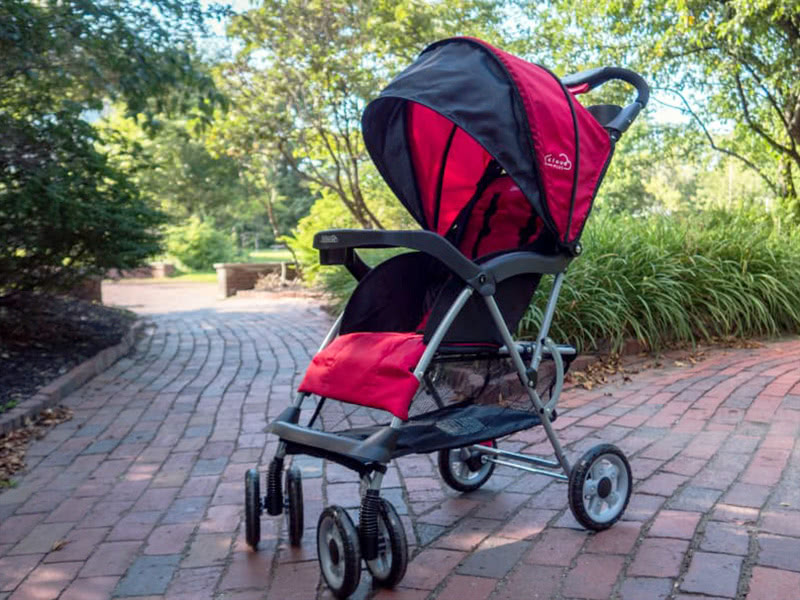 Read our Kolcraft Cloud Plus in-depth review.
We like:
The fact that this stroller comes with highly-durable all-terrain wheels
It's extremely durable – seems like it's made to last
It's very affordable
The all-wheel suspension makes for a smooth ride
A storage basket accessible from the front and back makes toting around your things easy
It includes cup holders and a removable kid's tray
We don't like:
Conversely, the fact that the storage basket opens in the front makes it easy for small items to fall out
The cup holders are shallow
The child's tray can be hard to remove
The fabric is lower quality than some of this stroller's competitors
Where to buy: Check price on Amazon
This affordable stroller feels durable and safe – and comes with even more features than I've seen with strollers from luxury brands.
With all-wheel suspension for comfort, a kid's tray to keep your child occupied, and all-terrain wheels that make off-roading easy, the Kolcraft Cloud Plus is a great choice (especially for its extremely affordable price).
Chicco Bravo Trio: Best Travel System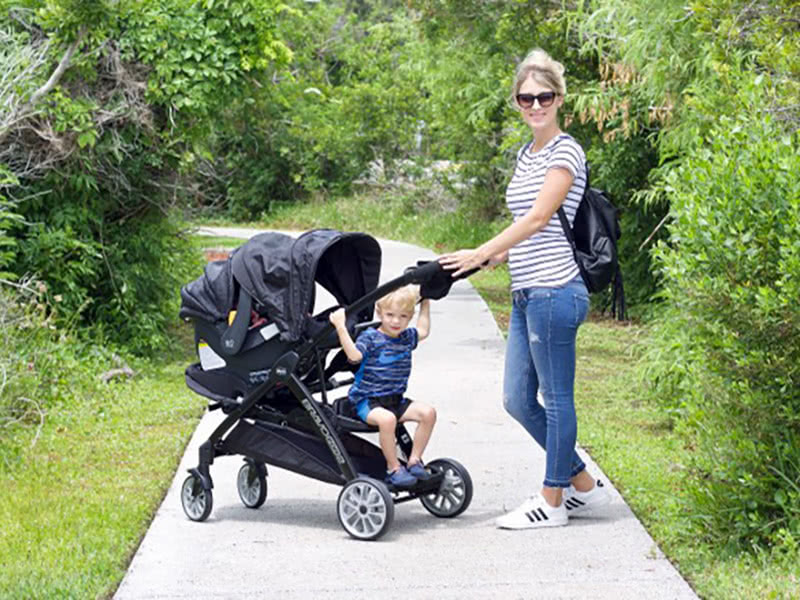 Read our Chicco Bravo Trio in-depth review.
We like:
With the car seat, you can use this system from day one through toddlerhood
With this system, you can reduce the purchases you'll have to make
The seat removes and doubles as a very portable carrier
Switching between the toddler and the car seat is easy (just a click!)
The adjustable handlebar
The large amount of storage
The parent organizer
One-hand foldability
We don't like:
Does not offer one-handed pushing
Wheels are not all-terrain
Seat is not reversible
Where to buy: Check price on Amazon
Searching for the best stroller and infant car seat bundle? Look no further. The Chicco Bravo Trio travel system includes everything you'll need from day one till your child doesn't need a stroller anymore.
The infant car seat, the Chicco KeyFit, is our overall best car seat of the year. And the stroller is just as good with its slim and good-looking silhouette.
This package deal costs slightly more than other mid-range strollers in our ranking. However, since you don't have to buy another car seat, we believe the cost is well worth it!
How did we select the best strollers on the market?
When we set out to make this list, we wanted to ensure that it was as helpful as possible to all readers. This meant that we worked to stay as objective as possible. One way we did so was to remember that 'best' can be relative.
What might be superior for one family might not work at all for another! We considered our own experience and that of our friends and family to list all the possible needs and lifestyles that you may have too
For example, if you need a travel stroller, you'll be looking for something with much smaller dimensions and a more slight build than will someone who has two children and requires a lot of storage. In our reviews, we have simply reflected our experiences of each stroller, as well as the information we know are crucial for your decision making.
This includes information about which strollers are compatible with the most popular car seats on the market (take a look at our ultimate infant car seat and stroller compatibility guide for more information!).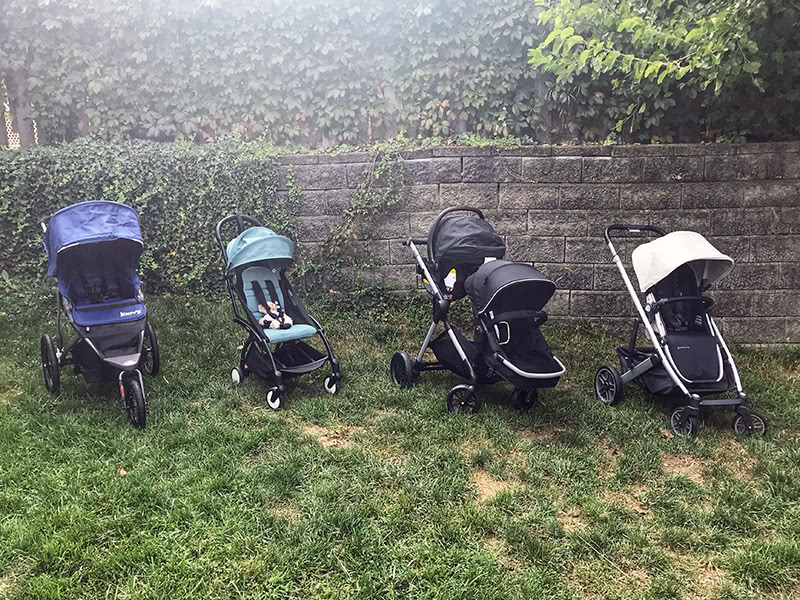 Choosing the right stroller for you
A stroller is an important investment for your family, both in terms of transit and as a useful safety tool! It's a good idea to take stock of your specific lifestyle (how active you are, how much you travel) before you look to purchase a stroller. It's very possible that the decision will be simpler than you think it will be!
To make your choices easier, we've distilled the top five things to consider when buying a stroller into this easy-to-reference list:
Price: Before you go stroller shopping, it's a good idea to sit down and figure out how much you can comfortably spend. Fortunately, there are great strollers in every price bracket. With our roundup, we definitely have you covered. Still, you don't want to make a purchase that you later regret. You'll be able to find a good option no matter your budget, so take time to clarify that factor first.
Versatility: Your stroller's only a good investment if it can do at least a couple things, and do them well. You'll want to look for a stroller that can perform well in rain or shine and that can handle a few different types of terrain. Looking for bonus points? Find a stroller that can switch from infant to toddler stages, or even support one or two children.
Durability: Similarly, if you're investing in a good stroller, you want that investment to last for more than one season. Look for frames made of good metal, fabric that can stand up to weather and multiple washings, and wheels that can handle daily walks for years to come.
Safety: Your stroller needs to keep your child safe. Look for multi-wheel suspension to protect your child from jolts mid-stroll. 5-point safety harnesses are the standard du jour, so they're always a good description to see! (We personally are always excited to see straps that can easily accommodate a growing child, with easily-adjustable restraints.)
Ease of Use: Remember, a stroller is a tool that you're going to use often to make transportation with your baby easy! Look for features that will really add to your life, such as a good amount of storage, cupholders, brakes that truly work, and easily foldable strollers that are simple to store.
We hope that this list of the best strollers was helpful for you! Please let us know if you would like us to review other models that weren't mentioned above. We always love to hear from you!
Frequently asked questions about strollers