Wondering what the best stroller car seat combo is? Finding the best infant car seats and the best strollers on the market gave our team a pretty good idea of the different combinations available today and which travel systems are best for different situations.

A travel system consists of an infant car seat that easily attaches to a baby stroller, allowing you to travel with ease. We recommend getting the same brand for your car seat and stroller, but if you are interested in different brands check out our compatibility guide to ensure they will work together.
In this article you will discover the top travel systems of 2023 and which travel system is best for your family based on your lifestyle and desired features.

When it comes to selecting the best travel system for your needs, there are several factors to consider. First, look for durability and stability – you want to ensure the travel system is built well enough for regular use without compromising on safety or comfort.

You'll also want something lightweight and compact in size, as this will make transportation easier when traveling by airplane or public transit.

Additionally, make sure the travel system includes basic and additional features you are looking for such as adjustable handlebars, swivel wheels and storage. Read more about stroller features in our stroller buying guide.
Finally, consider your budget when selecting a travel system. Many travel systems come with features that may be unnecessary for your needs, so it's important to understand what you need before making any purchases.

Traveling with a baby can be both exciting and daunting. That's why having the right travel system is essential to make sure your journey remains safe and stress-free. By taking into account all these factors, you can rest assured you'll find the perfect travel system for your family!

Without further ado, here's our list of the 6 best travel systems of 2023:
1. Chicco Bravo Trio: Best Overall Travel System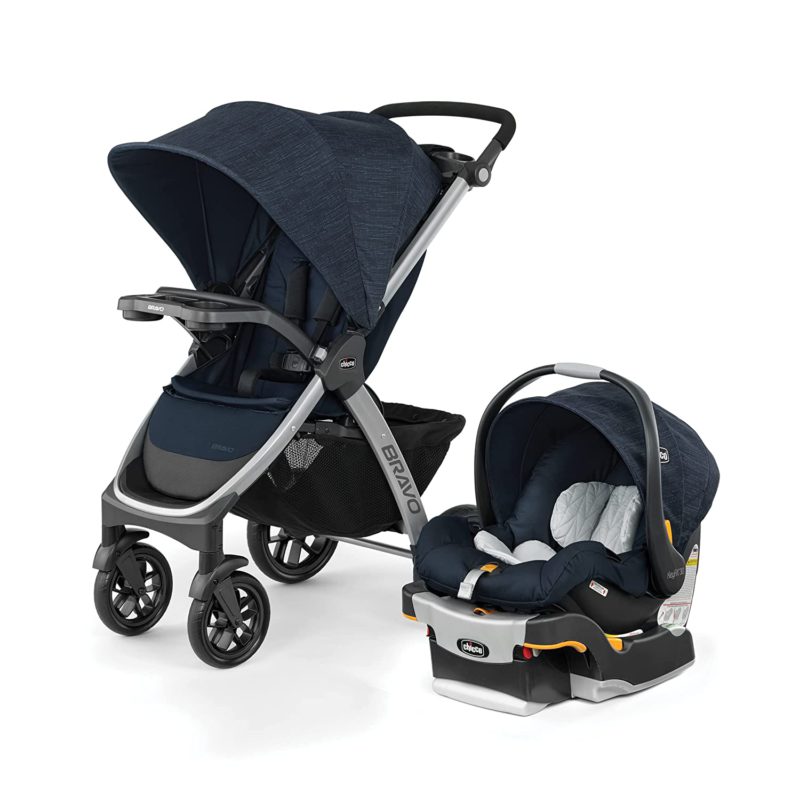 We like:
Exceeds crash test ratings.
Durable tires.
Large cargo space.
Easy to move the car seat in and out of.
Overlapping sun shades.
We don't like:
Almost no shocks.
Car seat is a little on the narrow side.
Where to buy: Check price on Amazon
The Chicco Bravo Trio includes the Bravo quick-fold stroller and the Chicco KeyFit 30, one of the best infant car seats on the market (read our full review of the Chicco KeyFit 30). The stroller is easy to use, comfortable to push and provides a smooth ride. It provides ample storage, and can be accessed from the front and back of the stroller. And once the child grows out of the car seat, the main seat has a child tray and the seat reclines far enough back for sleeping and even changing a diaper when on the go.
2. UPPAbaby Cruz: Best Travel System for the City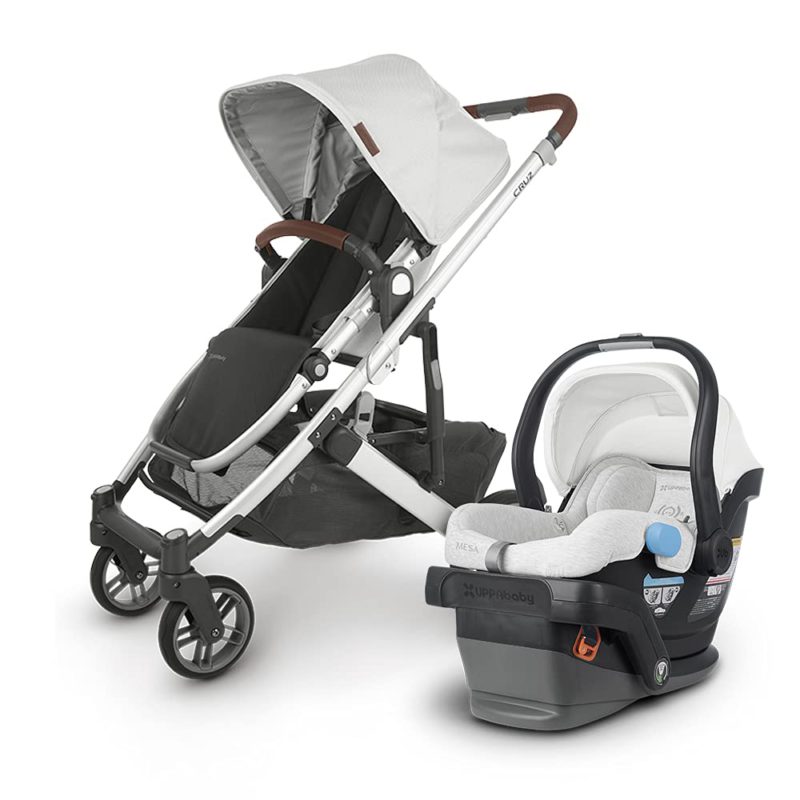 We like:
High quality fabric.
Stroller drives very smoothly.
Easy to clean and maintain.
Canopy slides up and grows with your child.
We don't like:
More expensive than others.
One of the heavier travel systems.
Where to buy: Check price on Amazon
We recommend the UPPAbaby Cruz V2 and Mesa Infant Car Seat if you can bump up your budget for a premium travel system. The extra features are great and we love the natural wool fabric (less nasty chemicals and more breathable for your baby). It is a stylish travel system, and there is even an additional bassinet you can purchase if you want.
3. Baby Jogger City Select: Best Outdoor Travel System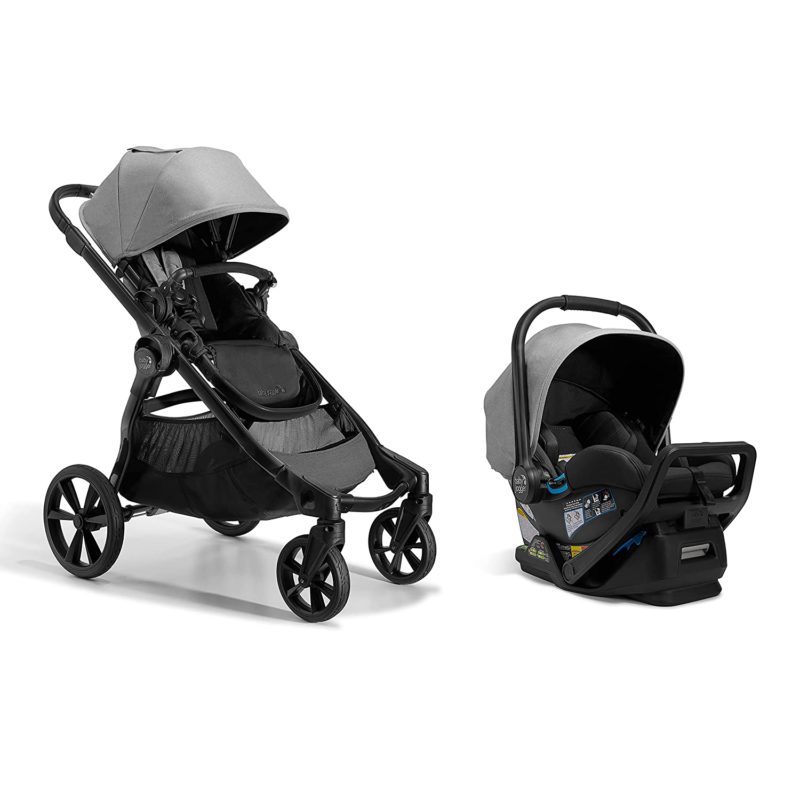 We like:
Easy to steer and provides a smooth ride.
Converts to a double stroller.
Lighter frame than similar strollers, and very compact when folded.
Lifetime frame warranty for the stroller (which the customer service does deliver on).
We don't like:
Not the most comfortable handlebar (although it is adjustable).
A little tricky to fold and unfold.
Where to buy: Check price on Amazon
We recommend the Baby Jogger City Select 2 Travel System with the City GO 2 Infant Car Seat. Baby Jogger is a reputable brand in the market with high quality strollers known for safety and flexibility — since the stroller can easily be converted to a double tandem stroller. Another notable difference is how compact the stroller is when folded. However, they claim "all-terrain" wheels, whereas we find them appropriate for the city, but not "all-terrain".
4. Chicco Activ3 Jogging: Best Travel System for Jogging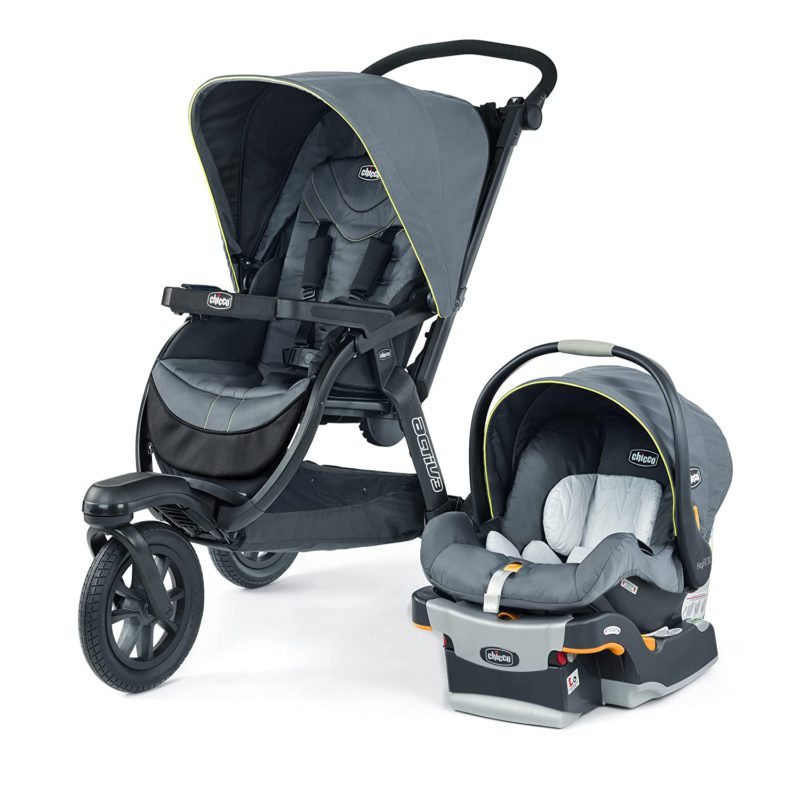 We like:
Durable foam filled tires and suspension, great for smooth or rugged terrain.
One-hand fold, and three different fold configurations.
Extendable canopy with two peek-a-boo windows.
We don't like:
Like many jogging strollers, a bit on the heavier side.
No child tray.
Where to buy: Check price on Amazon
Not only is this one of the few jogging travel systems, but it is a superb system in general. It is built of high-quality materials, is super easy to put together and operate, and has the most advanced safety options available today. In addition, it includes just about any feature you can think of: additional wrist strap, parent storage, reclining seat, front wheel lock, and more. It is also easy to securely snap the car seat into and out of the stroller and the base.
5. Evenflo Pivot Xpand: Best Double Stroller Travel System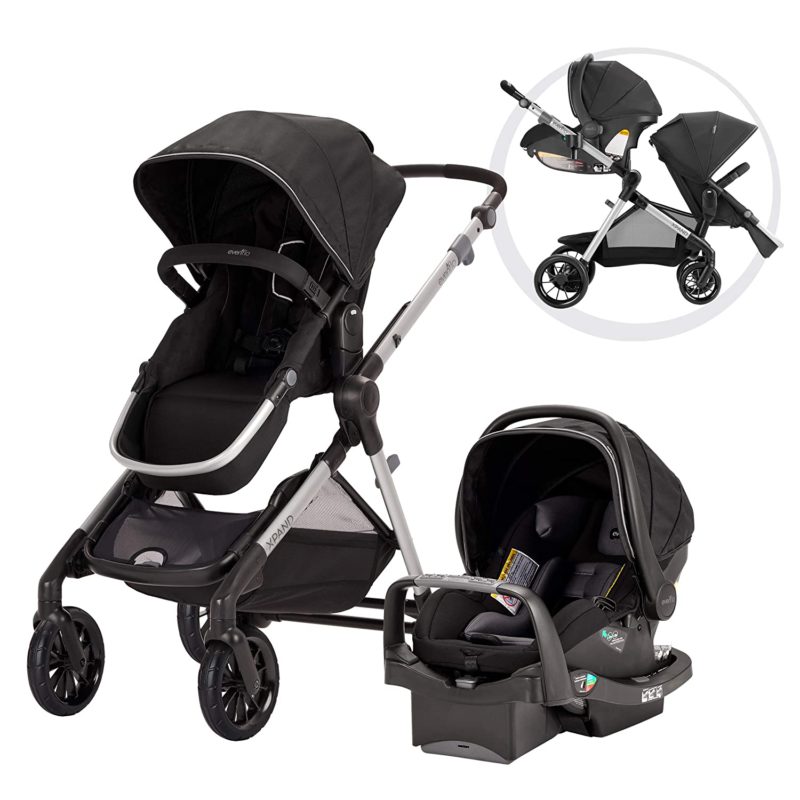 We like:
All the different configurations!
Car seat sits directly on frame.
Self-stand fold.
Spacious under-carriage.
We don't like:
Folding mechanism is more complex than competitors (although still able to figure out).
May have to purchase an additional car seat and/or toddler seat.
Where to buy: Check price on Amazon
The Evenflo Pivot Xpand stroller is a "Modular Travel System" that works well with the SafeMax Infant Car Seat, and can be transformed into 22 different configurations including a double stroller requiring no tools or extra parts. But keep in mind that a double stroller takes up more room than your standard single stroller.
6. Baby Trend Expedition: Best Budget Travel System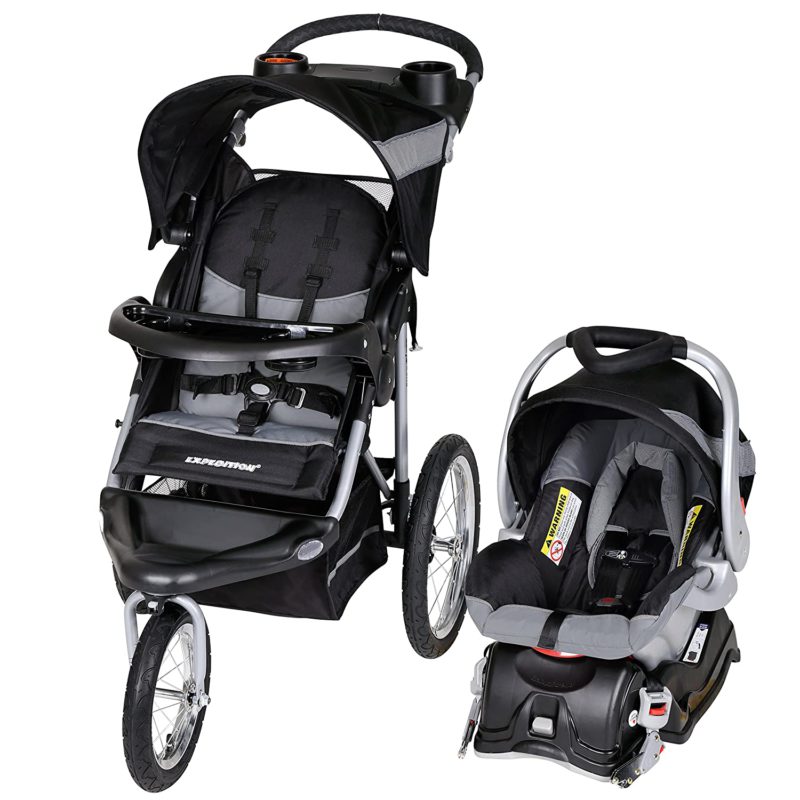 We like:
Excellent price!
Stroller can stand upright when folded.
The lightweight car seat, 6.6 lbs.
Metal frame on stroller.
We don't like:
Padding/cushion and fabric not the highest quality (but it is machine washable).
More difficult to fold than a standard stroller.
Where to buy: Check price on Amazon
The Baby Trend Expedition Jogger stroller wins as our best value stroller when it combines with the lightweight Baby Trend Ally 35 infant car seat, plus it is also a jogger stroller. The stroller is meant for any terrain and includes the standard features of a jogging stroller including air-filled tires, wrist-strap, brakes, and an excellent grip on the handlebar. It also comes in a variety of color options!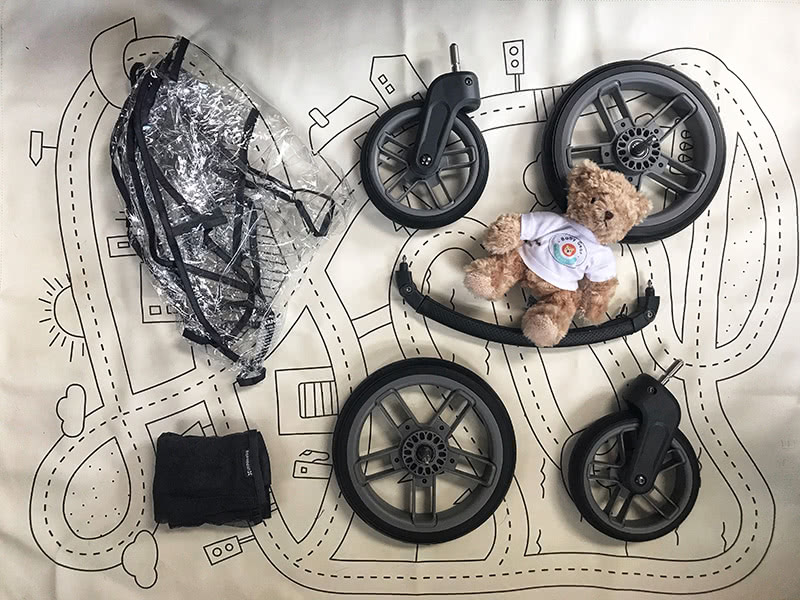 How we select the best Travel Systems of the year?
We worked hard to make this list of the top travel systems of 2023 as objective as possible. For us, this started by recognizing that there is no absolute best. Every family has different needs and lifestyles, so we needed to first understand what the different expectations might be before evaluating strollers and car seats against those expectations.

For example, you'll have very different expectations from your car seat if you're always using it with its base fixed in your car versus using the seat in taxis without its base.

Similarly, families who already have a stroller and want a car seat that is compatible with that stroller, will have different criteria (take a look at our ultimate infant car seat and stroller compatibility guide if that's the case for you). Read our guides on buying the best infant car seat or the how to find the best stroller for your family.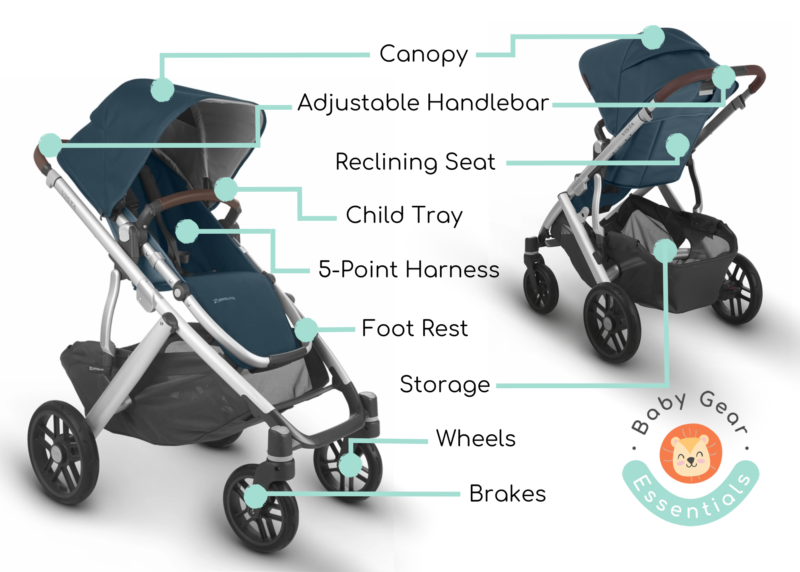 So how did we go about selecting the best travel systems of the year? We started by creating a list of the top 35 best infant car seats available today and cross-referenced with the best strollers. In addition, we used authoritative resources (see the full list below) and then analyzed safety ratings, scores, and reviews for each model to narrow down our list to the top models.

We purchased each infant seat on our top list and gave two models to each family in our group. Everyone used their seats for a period of five months with their kids. Each seat was used extensively to get hands-on experience. We paid particular attention to their pros and cons and what they are like on a day to day basis.

To read more about our favorite infant car seats, read our Best Infant Car Seats article.
Further reading recommendations about infant car seat and Stroller safety
We used several authoritative sources to help with our list of the best travel systems, for both infant car seats and strollers. We recommend that you read them if you want to learn more about car seat or stroller safety in general. These are also great resources if you want to understand a particular aspect of child safety or want to stay up-to-date with the latest research.

The National Highway Traffic Safety Administration and the National Child Passenger Safety Board have excellent in-depth resources on car safety for children. We recommend you start there:
If you want to explore car safety even further, we recommend the following resources that were used when writing this article:
For additional information on stroller safety we recommend reading: