When it comes to baby swings, one size doesn't fit all! With an endless array of features and prices, selecting the best baby swing for your baby can be a daunting task. But don't worry, we've outlined what to look for and identified the best baby swings to help you find what's best for your family.
QUICK GUIDE: IN THIS ARTICLE
We recommend borrowing different baby swings if possible to try out a few of the different types of swings to see which baby swing features your baby prefers.
Below we outline what to look for in baby swings, and this is what we used to help us pick the best baby swing for your baby! Without further ado, here is our list and top pick for the best baby swings of 2023!
---
Best Baby Swings of 2023 Summary
---
---
---
---
---
---
---
---
Graco Soothe My Way Swing with Removable Rocker
OUR
RATING
AMAZON
RATING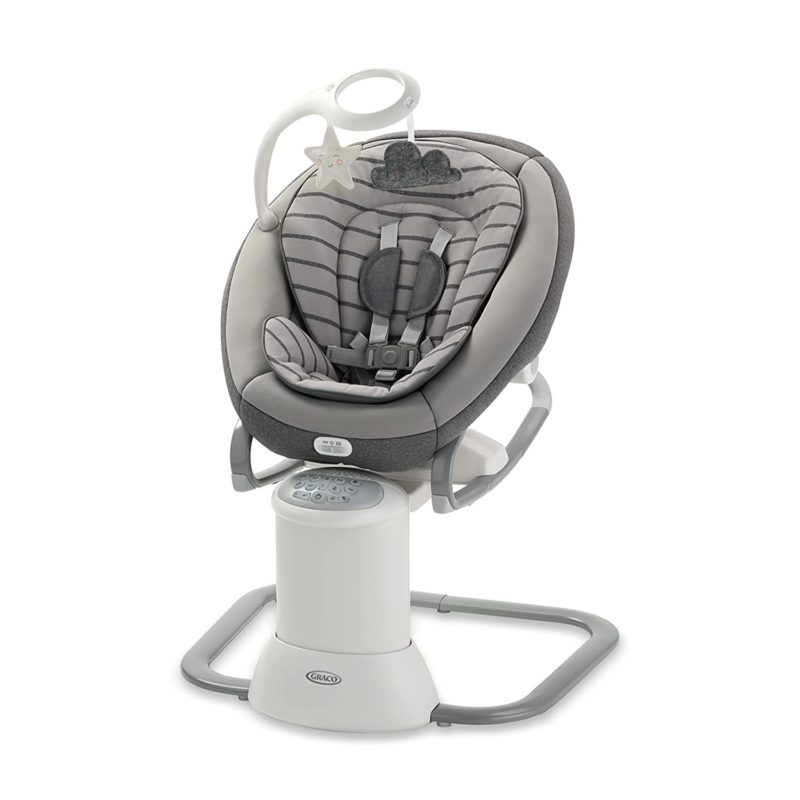 ---
---
---
Types of Baby Swings
Baby swings come in different varieties, so it can be hard to choose which one is right for your baby. Depending on your needs and budget, you can opt for a traditional swing that swings back and forth, a rocking chair, or a more modern baby swing that glides side to side.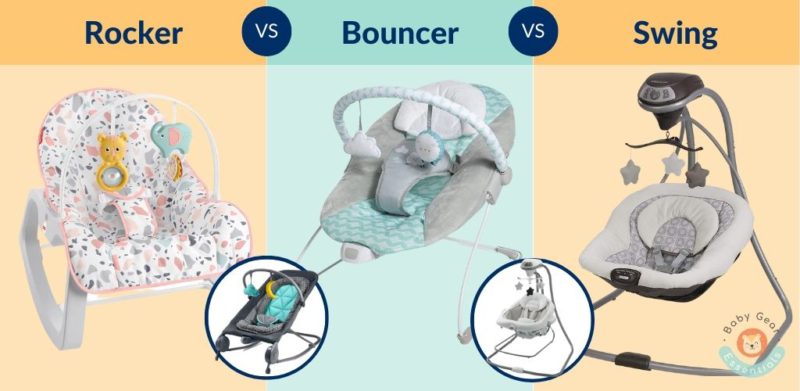 Here is a list of the eight types of baby swings available today:
1. Full-Size Baby Swing
A full-size baby swing typically plugs into the wall and is a bit larger. They are more powerful and typically have multiple speed settings.
2. Portable Baby Swing
A portable baby swing is smaller, lighter weight, and more compact, making it easier to move around or travel. They are also lower to the ground and may make it harder for some parents to use or may be unusable by larger/taller babies. They're typically powered by batteries.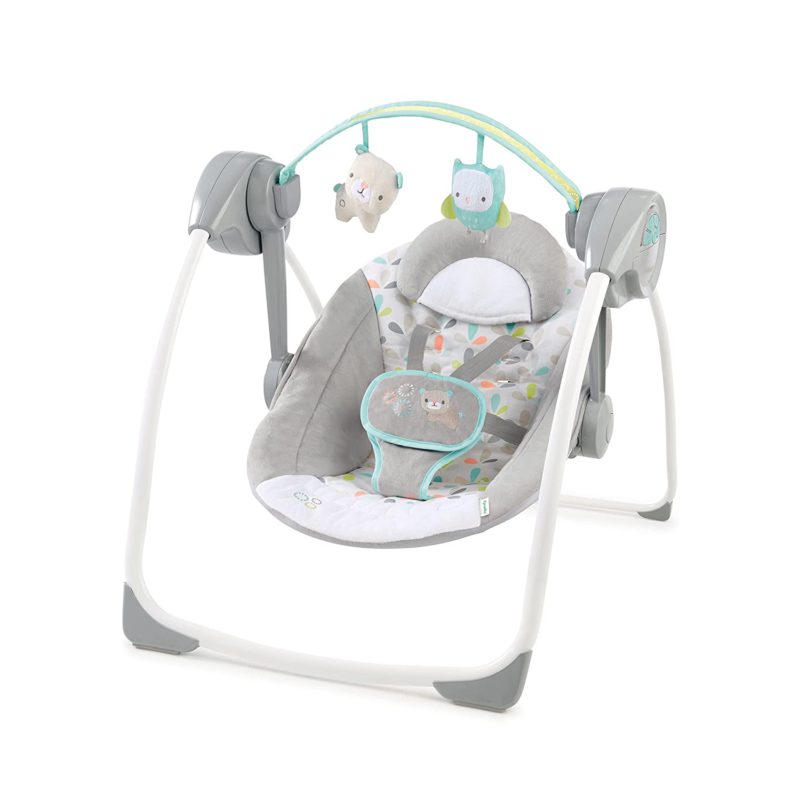 3. Glider Baby Swing
A glider baby swing has similar features to a full-size baby swing, but has much smoother swaying as it is made to mimic movements of a glider seat.
4. Rocker Seat
A rocker is typically manual and relies on your hand or foot for propulsion, or for an older child to rock it back and forth.
5. Cradle Baby Swing
A cradle baby swing is a cradle that hangs and has the ability to be manually pushed or electronically swings back and forth.
6. Bouncer Seat
A baby bouncer is a seat for your child to lay in and often includes a vibration feature.
7. Combination Baby Swing
This type of baby swing is typically a little larger and has the ability to convert to another baby item such as a bouncer, baby chair, or rocker.
8. Hanging Baby Swing
Hanging swings are great for the outdoors and loved by most children, but intended for when the child is a little older and is stable while sitting up on their own.
Infant Swing Considerations
When looking at baby swings, consider the different types of baby swings, as well as the different features available. It may be helpful to answer some of the questions below to narrow down the best type of baby swing for your little one:
Do I plan on traveling with my baby swing or moving it to different rooms?

If you plan on moving it a lot consider a portable swing.


How old and big is my baby?

If you have a bigger baby, a portable swing may NOT be your best option.


Does your baby need strong, abrupt swinging or do they prefer a gentler motion?

Traditional full-size swings provide harsher swinging, whereas gliders provide a gentler motion.


What is your budget?

Full-size swings are typically more expensive than portable swings, and more features typically mean a higher price-tag.

By considering these key factors before purchasing a baby swing, you can ensure that the model you choose is the best baby swing for your baby!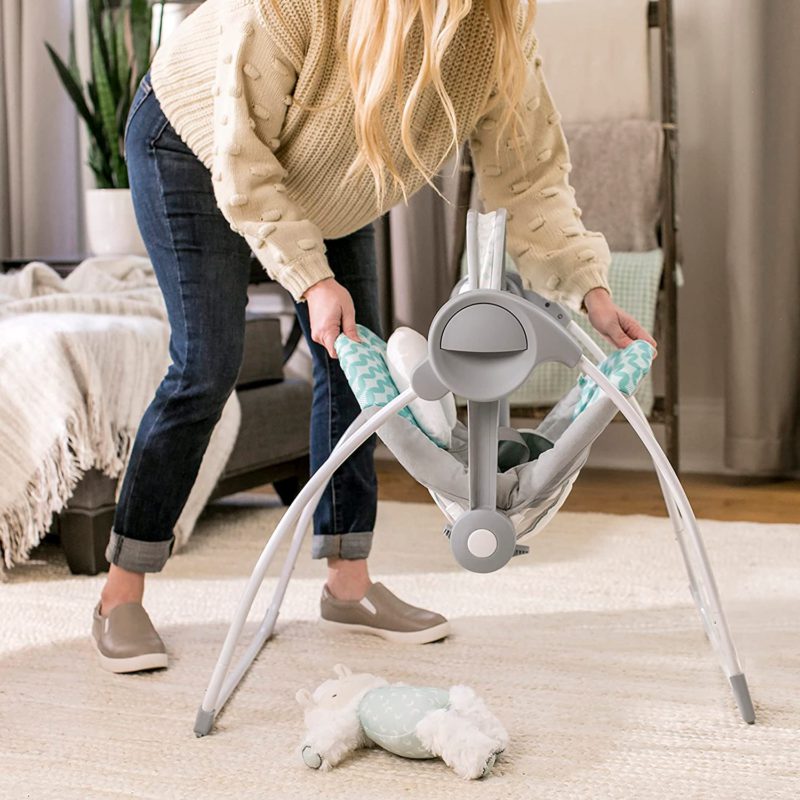 Baby Swing Features
If you're looking for baby swing features that are as versatile as they are safe and comfortable, look no further! From adjustable speeds to soothing sounds and vibrations, baby swings provide a host of options to create the perfect space for your baby.
Below is a list of the top features for baby swings, and what we used when ranking the best baby swings in 2023. We recommend considering this list as you look for the best baby swing for your family.
Safety
Infant swings must meet certain federal requirements and safety standards, but you should also consider the safety aspects of the baby swing such as adjustable straps and a 5-point harness to keep your baby securely in place.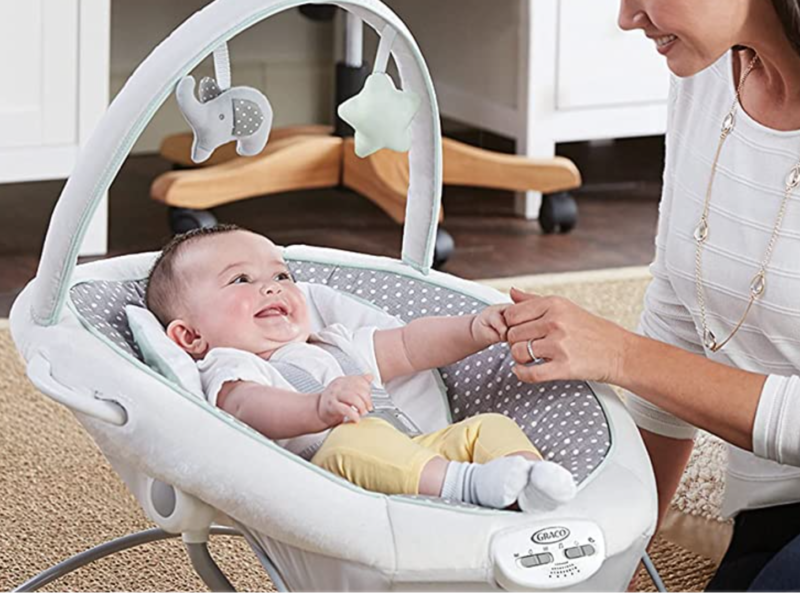 Comfort
Comfort is essential when it comes to baby swings! Look for models with well-padded seats, head support, removable infant inserts, and adjustable recline positions so your baby stays relaxed during their swinging session. We recommend baby swings that are easy to clean, with machine washable, easy-to-remove seat covers.
Swinging Preference
Each type of baby swing offers a different type of swinging: smooth or sharp, swaying or gliding, back-and-forth or side-to-side.

Additionally, look for adjustable speed settings so you can control how fast your baby swing is depending on their preference. But note that some of the more traditional swings are known for being louder the faster they go. 
Power Source
Opt for a baby swing that uses a power source that fits your needs. If you plan on using it inside frequently, we recommend an AC adapter. If you plan on moving it around or being outside, we recommend getting a baby swing that is battery operated.

Some baby swings are both electric and battery operated! Others may be electric but require batteries for additional features like vibration and music.
Entertainment
Many baby swings come with fun features such as lights, music, and a toy bar. These additional features can help keep your baby entertained for longer periods of time. But we recommend looking for baby swings that include adjustable volume levels so your baby isn't overwhelmed. Some baby swings also offer a vibration feature to provide additional soothing for your little one.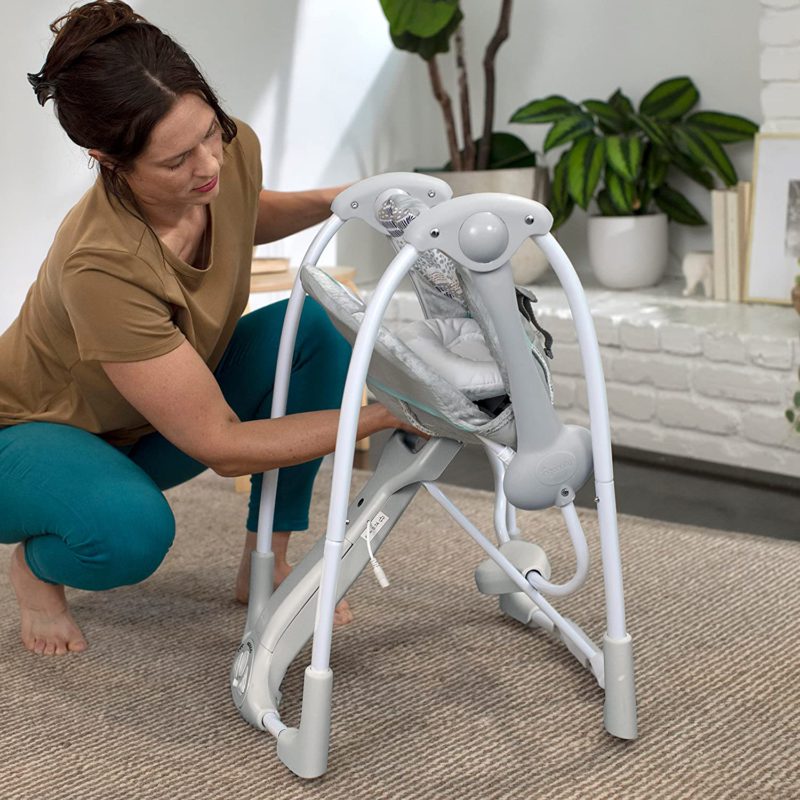 Usability and Size
Look at how difficult or easy it is to assemble and use the baby swing. Consider the size and weight of your baby swing and if you need a smaller swing or a portable option for convenience and storage.
Price
Decide how much money you are willing to spend on a baby swing before making your purchase. Consider the features included in each model and determine which best fits your budget and needs. Often the more features and flexibility, the higher the price tag.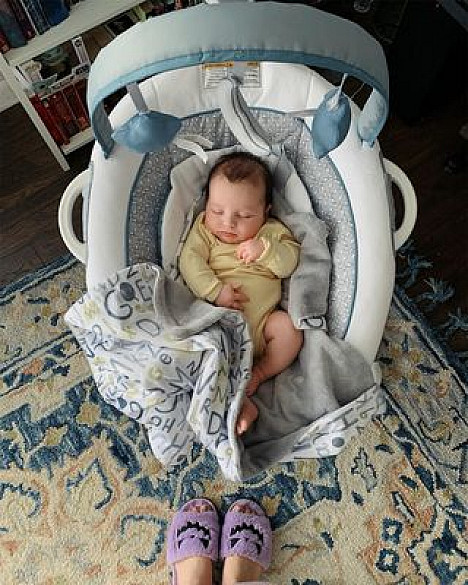 Baby Swings: A Few Safety Notes
As with most of the baby items in our Baby Gear Essentials list, we recommend purchasing baby swings from companies with a one-year warranty and excellent customer service.

We also recommend registering your baby swing with the maker, that way you are updated about any recalls or information you need to be made aware of.

For example, on August 15, 2022 a recall was issued for all 4moms MamaRoo Baby Swings (versions 1.0 through 4.0) and RockaRoo Baby Rockers, due to a strangling issue with all seats that had a three-point harness (the new 5-point harness swings are not included in the recall).
No matter which type of baby swing you choose, you'll want to make sure that it offers a safe environment for your baby. And although these may seem obvious, we recommend following these safety guidelines:
Set up your baby swing in a safe place.
Follow the age, weight, and height recommendations of the manufacturer.
Never leave your baby in the swing unattended.
Don't allow the baby to sleep for longer than necessary in the swing (not recommended for routine sleep).
Baby Swings: Frequently Asked Questions
What is the safest baby swing?
All baby swings must meet certain standards and guidelines, we recommend registering your product to ensure you are kept up-to-date about it meeting new requirements.
Should I buy a baby swing?
How will you know if your baby will even like a swing? You don't. We recommend testing out or borrowing a few if possible to see which your baby prefers. Read our article on should I buy a baby swing for additional support.