When it comes to feeding time, nothing makes life easier for parents and caregivers like having your little one in a high chair. There are many types of high chairs available on the market today, with this guide we hope to make it easier to choose the best baby high chair for your family. 

No matter which type you choose, make sure to get a baby high chair that's comfortable and secure for your baby. We recommend purchasing your high chair when the time is right, that way you don't miss the return window in case it isn't a good fit for your little one. With the right model, you can enjoy mealtimes with your family without having to worry. 

Below we outline what to look for in a baby high chair, and this is what we used to help us pick the best baby high chairs of 2023!

Without further ado, here is our list and top pick for the best baby high chair of 2023!
---
Best Baby High Chairs of 2023 Summary
---
---
---
---
---
---
---
---
---
---
---
Categories and Types of Baby High Chairs
Baby high chairs come in a variety of shapes and sizes, so it's important to find the best baby high chair that works for your needs.

The three main categories of high chairs are traditional, multi-functional, and space-saving models, with additional types in each category.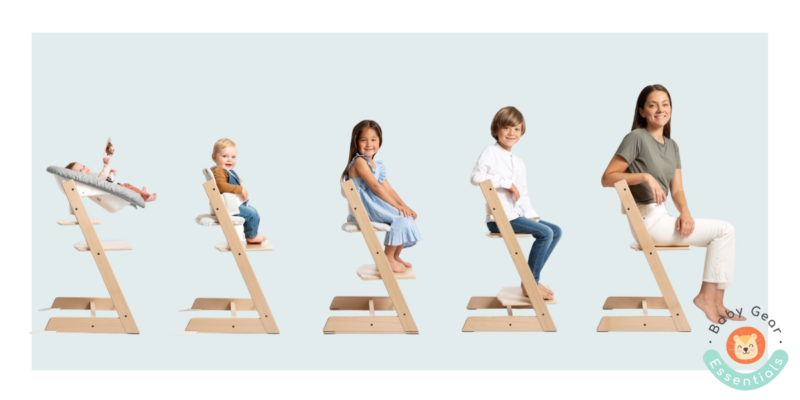 1. Traditional Baby High Chairs
Traditional baby high chairs feature an adjustable tray table with a safety harness to keep your baby secure while seated. The seat can be adjusted up or down to accommodate children of different heights or ages. Many also have reclining backrests for extra comfort.

Traditional baby high chairs models include full-featured and wooden high chairs. They tend to take up more space in the home but provide added support and stability for younger babies who may not yet be able to sit on their own.
Full-featured high chair
Some multi-functional seats can be used as high chairs, cradles and sometimes even swings. They usually have all the bells and whistles, like an adjustable seat with recline, a removable tray table and wheels for mobility.
Wooden high chair
This classic option is trendy again — and the understated finishes and clean lines fit right into most homes. Some versions are no-frills throwbacks, while others offer modern benefits like adjustable height, reclining seats and easy foldability for storage.
2. Multi-Functional Baby High Chairs
Multi-functional baby high chairs are designed with several features in mind. Many come with removable trays, as well as adjustable legs and footrests to accommodate growing children.

Multi-functional baby high chairs include convertible chairs that can be used for feeding, playing, or just lounging around the house. They're also more compact than traditional high chairs so they don't take up much space.
Convertible High Chair
Convertible high chairs can easily transition in size as your baby grows, so you won't have to worry about buying a new one every few months. Many models come with interchangeable parts that allow them to transform into booster seats or youth chairs.
3. Space-Saving Baby High Chairs
Space-saving baby high chairs are perfect for tight spaces. These models typically fold down when not in use, making them easy to store away in closets or underneath furniture. But they can also feature a low profile design that makes it easier for babies to climb in and out on their own.

Space-saving high chairs include smaller portable chairs, booster seats, and clip-on seats. They typically provide all the essentials without taking up too much room in your home.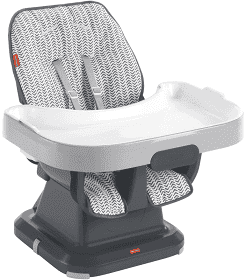 Portable High Chair
Portable high chairs are great for parents who love to travel or have less space. These lightweight designs allow you to keep up with your little one while on-the-go and are smaller in size, making portable high chairs a convenient option for those with smaller spaces.
Booster seat
Need a feeding chair that doesn't take up extra space? Strap a booster feeding chair onto one of your existing dining chairs. These chairs typically come with removable lap trays so that when your child is ready, he can pull right up to the family table.
Clip-on high chair
These leg-less high chairs clasp securely onto some types of tables or countertops for a sturdy, safe seat for your baby almost anywhere — at home or on the go.
Considerations When Buying a Baby High Chair
When looking at baby high chairs, consider the different types of high chairs, as well as the different features available. It may be helpful to answer some of the questions below to narrow down the best type of baby high chair for your little one:
Is my baby ready for a baby high chair?

Make sure your high chair is age-appropriate for your baby.
Baby should be able to hold their head up with good head control.

A good rule of thumb: your baby has doubled their birth weight.

Is the high chair safe for your baby?

Includes a sturdy base that won't tip over easily.

Adjustable five-point harness to keep your little one securely in place.
Chair's height is comfortable and ergonomic for your baby:

Remember "90/90/90": you want a 90-degree bend at the hips, knees and ankles to ensure your baby is in the safest position for eating.

Right height for your counter or table?

Each high chair can reach different heights, make sure yours matches the height of your counter or table.

Do you plan on moving it around?

If you travel or plan on moving the chair around, consider getting a smaller high chair or one with wheels.

What is your budget?

Full-size baby high chairs typically include more features than other highchairs, which means they typically weigh more and include a higher price-tag.

We also recommend baby high chairs that are easy to clean (machine washable fabric), are comfortable (with good padding and adjustable straps), and we recommend picking one that matches your style.

By considering these key factors before purchasing a baby high chair, you can ensure that the model you choose is the best baby high chair for your baby!
Baby High Chair Features
No matter which type of high chair you choose, it's important to keep in mind which features are most important when selecting the best one for your home.

The best baby high chairs provide a safe space for your little one to sit while they're being fed and they also come with a variety of features that make them even more beneficial!

Here are some of the most important features you should look for when choosing the best baby high chair for your little one.
1. Harness Straps
A five point or T-shaped harness ensures that your little one is securely held in place during meals. Make sure to double check if straps can be adjusted and changed as your child grows.
2. Tray Size and Shape
The tray needs to be big enough so that you don't have to worry about spills and messes, but small enough that reaching the food isn't a hassle. Make sure that the tray is also deep enough so that food won't end up on their lap or clothes.

Also ensure the tray attaches securely and removes easily, some chairs even offer one handed tray removal. Some trays are safe for the dishwasher which is an added bonus for cleanup!
3. Adjustability
Look for a chair that offers adjustable height, footrests, reclining positions and swivel action. This ensures comfort and safety while your child eats in their high chair. It also increases the amount of time you can utilize the high chair: allowing it to fit to your growing baby.
4. Comfort
Comfort should be a priority when choosing a baby high chair. Durable fabric cushions with an easy-to-clean surface are always good choices to look out for. We recommend high chairs with cushions that can be easily removed and are machine washable.
5. Wheels and Portability
Wheels add convenience when you need to move the baby's high chair from one room to another. In addition, many high chairs have the ability to fold up easily and be stored away when not in use.
6. Safety
And last, but not least: safety and convenience should be top priorities when choosing a baby high chair. With so many choices available in the market, make sure that you invest in one with all of the important features mentioned above. That way, your little one will always have a safe space for meals and snacks!
Best Baby High Chairs of 2023
1. Graco Blossom 6-in-1 Convertible High Chair: Overall Best Baby High Chair
If you're looking for a high-chair that does it all, look no further! The Graco Blossom Convertible High Chair is built for babies up to 60 pounds, includes a removable insert, easy-to-remove tray, and is on wheels making it easier to move around. With 6 different overall conversions, this high chair is sure to have the position best for your little one.
Dimensions: 29″D x 22.5″W x 41″H
Weight: 32 pounds
PROS
6 different conversions.
3-position recline.
Machine washable.
Dishwasher-safe tray.
Convertible 3 & 5-point safety harness.
Locking wheels for portability.
CONS
2. Evenflo 4-in-1 Eat & Grow Convertible High Chair: Best Convertible High Chair
Many convertible high chairs are bulky and complex, but not the Evenflo 4-in-1 Convertible High Chair! It's simple design allows you to utilize it as a high chair, booster seat, or basic chair with the ability to use the bottom piece as a table.The Evenflo Convertible chair is built for babies up to 50 pounds, but is a lightweight solution for those looking for a convertible option.
Dimensions: 24″D x 21.75″W x 37″H
Weight: 11.6 pounds
PROS
Simple and lightweight.
Converts to 3 other chair styles.
Machine washable seat pad.
5-point safety harness.
CONS
Tray is not dishwasher-safe.
3. Graco Slim Snacker High Chair: Best Budget High Chair
The Graco Slim Snacker High Chair has been one of the best seller high chairs for quite some time, and often makes "Best High Chair" lists. It is very easy to use and includes an easily removable tray and fabric that wipes up nicely, allowing for easy cleanup. There are no wheels, but the Graco Slim Snacker High Chair can easily fold up for storage when not in use.
Dimensions: 24″D x 35.5″W x 40.8″H
Weight: 17.6 pounds
PROS
3-position reclining seat.
Full-size tray with built-in cupholder.
Removable, dishwasher safe tray insert.
Convertible 3-point and 5-point harness.
Under seat storage basket.
CONS
Seat is machine-wipeable, not machine-washable.
4. Fisher-Price Spacesaver Simple Clean High Chair: Best High Chair for Small Spaces
If you are short on space and looking for a smaller baby high chair, the Fisher-Price Spacesaver High Chair may be the right one for you!
It is built for babies up to 50 pounds and easily attaches to most chairs, making it a great portable option for your little one!
Dimensions: 20.47″D x 24.02″W x 21.65″H
Weight: 4.6 pounds
PROS
3 recline positions and 4 tray adjustments.
Deep tray and removable tray liner, both dishwasher-safe.
Machine washable seat pad.
5-point safety harness.
CONS
Ensuring it is properly attached to the chair.
5. Maxi-Cosi Minla 6-In-1 High Chair: Best Premium High Chair
The Maxi-Cosi Minla High Chair is one of the more beautiful chairs we reviewed, and it also includes wheels and can fold up nicely for storage. It has six different modes, and boasts utilization until your little one is 6 years old! The seat is also made with a liquid-repellent fabric and is machine washable, allowing for quicker clean up.
Dimensions: 22.5″D x 37″W x 12.63″H
Weight: 22 pounds
PROS
6 different modes, up to 6 years old!
5 recline positions.
9 height positions.
Removable, dishwasher-safe snack-tray insert.
Machine washable seat pad.
Folds for easy transport.
CONS
Tray is a little hard to remove.
Lots of areas to keep clean.
6. Inglesina Portable High Chair: Best Table Attachment High Chair
The Inglesina Portable High Chair is a great seat for kids 6-36 months old and 37 pounds, especially for traveling with its foldable, lightweight design and integrated carry-bag. It is quick to assemble and set-up, with its twist-tight couplings that extend up to four inches under your table and it leaves no scratches. The chair cover is not technically machine washable, but we tried in cold water and it worked great (we also let it air dry).
Dimensions: 14″D x 17″W x 11″H (when open); 14″ x 17″ x 4″ (when folded)
Weight: 4.2 pounds
PROS
Lightweight and easy to transport.
Comes in a variety of colors.
Seat is free of regulated BPA, BPS, flame retardants, phthalates and lead.
Integrated carry bag and easily folds for transport.
Storage pocket on back.
CONS
Tray sold separately.
Gap between chair and table.
Table must be 3.5″ thick or less.
7. hiccapop OmniBoost Travel Booster Seat: Best Portable High Chair
The hiccapop OmniBoost Travel Booster Seat with tray for your baby is a flexible seat option that can strap onto a chair and be used at the table, or be used on its own as a floor seat even outdoors. The chair itself has excellent reviews, and we love how the company continues to improve its product and provide excellent customer service!
Dimensions: 7.01″D x 15.59″W x 7.01″H
Weight: 4.19 pounds
PROS
Lifetime warranty.
Includes removable "duck-feet" for additional stability.
Comes in a variety of colors.
Dishwasher-safe swivel tray.
Machine washable seat cover.
Rear mesh storage pocket.
Shoulder carry bag for easy transport.
CONS
Tray clips are not the sturdiest (but if they do break, utilize the warranty).
8. Abiie Beyond Junior Wooden High Chair with Tray: Best Wooden High Chair
The Abiie Beyond Junior Wooden High Chair is a 3-in-1 convertible chair for babies 6 months old and lasts up to 250 pounds, making it a great longterm investment! Wooden chairs have become extremely popular do to their natural, modern looks, as well as their sturdy structure. The Abiie Wooden High Chair also includes a 3 year manufacturer warranty, that can be extended with additional protection plans.
Dimensions: 17.8″D x 21.2″W x 33.5″H
Weight: 17 pounds
PROS
Convertible, and no tools needed for adjustments.
5-point or 3-point harness.
One-hand removable tray cover is dishwasher safe.
Stain-resistant, waterproof cushion.
Usable by adults up to 250 pounds.
Available in three different body options and a variety of seat colors.
CONS
The wood has a possibility of splitting.
Tray table is a little small and only has two notches.
9. Munchkin® 360° Cloud™ Baby High Chair: Best Swiveling High Chair
The Munchkin® 360° Cloud™ Baby High Chair is a modern design high chair that swivels for convenience when feeding. It is easy to assemble and clean; however, the chair and the footrest are not adjustable and support babies up to 33 pounds.
Dimensions: 28″D x 28″W x 40″H
Weight: 16-24.54 pounds
PROS
Removable tray and tray insert are dishwasher-safe.
5-point harness system with adjustable straps.
CONS
Removable cushion insert not machine washable.
Not very adjustable.
The widespread legs are often a tripping hazard.
Baby High Chairs: A Few Safety Notes
As with all baby items, we recommend registering your baby high chair with the manufacturer to be kept up-to-date about any recalls or further safety information.

In addition we wanted to share a few more safety tips when using your high chair:
Never leave your baby unattended in the chair.
Always make sure your baby is buckled up and tray is latched.
Make sure your chair is a safe distance from the table or other edges.
Follow height and weight guidelines.
Make sure any castors or wheels are locked.
Baby High Chairs: Frequently Asked Questions
Should I buy a baby high chair?
Baby high chairs are high recommended as your baby begins eating solid foods. The best baby high chair will keep your baby safe and comfortable while they eat, and allow you to easily feed and clean up after. Click here to read additional considerations.
What is the safest baby high chair?
All baby high chairs must meet certain standards and guidelines, we recommend registering your product to ensure you are kept up-to-date about any recalls to ensure it meets new requirements.