A multipurpose budget-friendly modular stroller system for your family.
Our verdict on the Evenflo Pivot Xpand Stroller
If you're in need of a budget-friendly, feature-laden travel system, check out the Evenflo Pivot Xpand. It presents an easy ability to switch between configurations on the go. This stroller is a low-cost way to invest in support for your growing family.
Many brands – including the Baby Jogger City Select – are coming out with expandable strollers now, as they're more multifunctional than a simple double stroller. However, many of these cost a lot of money! With the Pivot Xpand, you essentially get a safety-rated car seat, single/double stroller, and carrier in one system.
If you have one, two, or even three children, this stroller (and, perhaps, a rider board for an older child!) can get you all where you need to go. However, the lower cost does mean that some of the higher-end features common on its competition aren't seen here. For example, this stroller doesn't feature UPF sun protection or all-terrain tires.
Those features may not be important to you, though. If what you need is endless versatility, this might be the stroller you're looking for!
Ultimately, the Pivot Xpand is not quite as high-end as other strollers we've seen. For its price, the entire system is a great bargain. The car seat has excellent safety ratings, the stroller folds down compactly, and it can grow along with your family.
If you're looking for a more luxurious stroller, the UPPAbaby Cruz V2 is our favorite option on the market today! For a more compact option – so compact, in fact, you can tote it along on your shoulder – you should read our review of the Babyzen YOYO2 stroller.
Read on for our hands-on review of the Evenflo Pivot Xpand!
Our Rating: 9.4/10
Summary
We like:
The comprehensive versatility of this set.
The low price – high value, budget-friendly cost.
One stroller system from infancy through young childhood.
We don't like:
Assembling and converting this stroller is not initially intuitive.
Lesser-quality fabric (not as soft) as others we've seen.
The heavy weight – can be bulky when all parts in use.
Where to buy: Check price on Amazon
Alternatives:
If you're looking for a versatile travel stroller that can support your baby from infancy through toddlerhood, check out our Babyzen YOYO2 stroller review.
For a more premium stroller with a luxurious feel, head to our UPPAbaby Cruz V2 review. This stroller has full-grain leather accents to the ultra-absorbent suspension, the Cruz V2 feels like a gorgeous upgrade for your everyday stroll.
In the market for an even lighter stroller? Read our Graco NimbleLite review! The NimbleLite offers click-in compatibility for all Graco car seats. In fact, it can transform your Graco car seat into a bonafide travel system: portable, versatile, and full of helpful features.
Specifications
Recommended for children between 4-55 lb (1.81 – 25 kg)
REAR-FACING:

Weight: 4-35 lbs. (1.8-15.8 kg)
Height: 17 – 30 in. (43 – 76 cm.)
Age: Up to approximately 1 year old

FRONT-FACING STROLLER:

Weight: Up to 55 lbs (25 kg).
Age: For use from birth to approximately 6 years

Product Specs:

Dimensions Folded: 26.5 x 18.5 x 31.5 in; 0.67 x 0.47 x 0.8 m
Dimensions Unfolded: 26.5 x 41.5 x 34 in; 0.67 x 1.05 x 0.86 m
Weight: Car Seat (without base) – 7.6 lbs (3.4 kg)
Weight: Car Seat (with base) – 14 lbs (6.35 kg)
Weight: Stroller frame + toddler seat – 28.6 lbs (12.9 kg)
Total weight (car seat, base, stroller frame, seat) = 42.6 lbs (19.3 kg)
Features
| | |
| --- | --- |
| Washable insert | Yes |
| Tray | No |
| Front and forward facing configuration | Yes |
| Peekaboo screen | Yes |
| Detachable carrier | Yes |
| More than one kid | Yes |
| Waterproof canopy | Yes |
| Sun protection canopy | Yes |
A Convenient, Comprehensive Travel System
Two things immediately stick out about the Evenflo Pivot Xpand: Price, and the number of configurations. It truly is a travel system! Instead of merely offering functionality as a stroller, you get a car seat, a carrier, and enough seats on the stroller to fit two children. It's a great budget option for a growing family, or for families who have infants of similar ages.
That's the best thing about the Pivot Xpand. As its name might suggest, you can completely change the look, utility, and feel of this stroller. Even better, you can do it without having to tote around a toolkit.
It does take some getting used to (and quite a bit of time with the instructions manual), but once you get a feel for it, it's very easy.
Ultimately, the Evenflo Pivot Xpand feels a bit like a Swiss pocket knife. With a few clicks and twisting a lever up and down you could completely change its look and utility.
Putting It All Together
After I got all the pieces out of the (quite large) box and wrappings, the Evenflo Pivot Xpand only took a few minutes to put together. All you need to do is attach the four wheels, select the car seat or the stroller seat, click it into place, and you're ready to go – for configuration #1.
It may take a few perusals of the instruction manual to figure out which combination of seats, directions, and reclining angles work best for you. However, it becomes more natural after a few changes. After that, it's almost fun to watch the Xpand switch, almost chameleon-like, from one use to the next.
If you're experiencing issues with initial assembly, you can easily call into Evenflo's customer service line to video chat. They'll walk you through the process and help you decide which options you might like. I tried calling in and did get to speak with a real person relatively quickly, so it does seem like their priority is being there for their customers.
You can also schedule an appointment to have a certified safety technician help you install the included car seat! An Evenflo tech will guide you through a vehicle installation process over video chat. This is certainly an increasingly attractive option these days!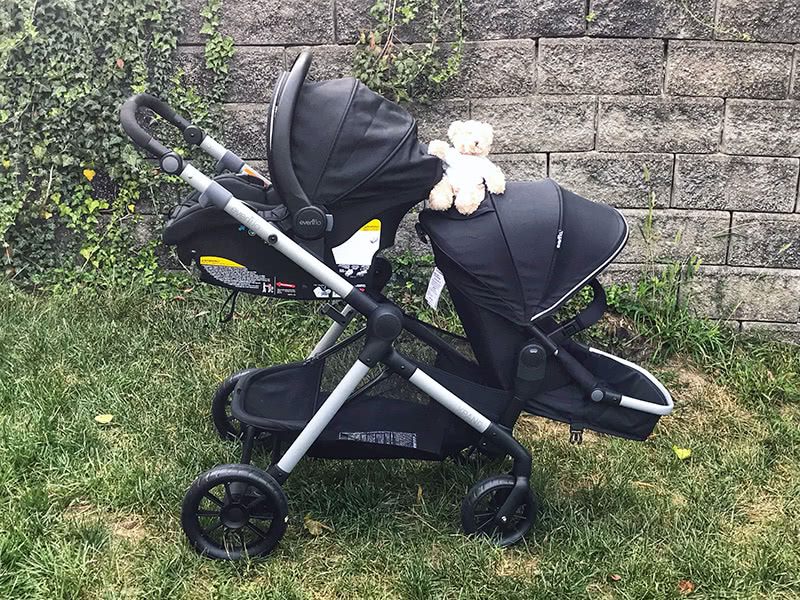 Twenty-Two Configurations for Everyday Utility
The Pivot Xpand's big selling point is its modular design and easy changeability. This is great if you need a versatile stroller option. I played around with the different configurations and settled on having the car seat up top, nearest to me, so I could be face-to-face with our daughter.
If, like me, you're interested in – perhaps – what some of the other more useful configurations are, here are the ones I (and my daughter!) ended up preferring:
Single stroller, car seat up top
Single stroller, stroller seat fully reclined as a bassinet
Double stroller, car seat up top, stroller seat lower but turned to face the rear as another infant seat
The nice thing about the Pivot Xpand is that all of this versatility is packed right into the stroller. You don't need any additional parts or tools at all, so if you need to change configurations while you're out and about – you can.
Initial Field Test
When I rolled this stroller down the street, I noticed that the maneuverability and suspension of this stroller is a little stilted. It doesn't glide, it rolls. Given the budget-friendly price and the features emphasized elsewhere, though, this was not surprising to me! However, it's important to note that this is a stroller designed for city transit.
It has front-wheel swivel and suspension only in the rear, which means that if you take it on the trail or over gravel, it will stumble a bit. However, Evenflo has updated the wheel design with this stroller. The newer wheels have more texture than previous models, which helps with overall traction.
The stroller feels sturdy, and even when it's loaded up with children in both seats, it doesn't feel top- or bottom-heavy. It brakes quickly and easily, and I appreciated the large braking lever – it wasn't hard to find, and it didn't stick.
Baby Safety and Comfort
Both the included car seat and the stroller seat can attach easily to the frame. You can also slide them up and down so your child is closer to the ground, or closer to your face. I haven't seen that in many other strollers. It's nice to have that flexibility!
The stroller seat has the same capacity, features, and size as the car seat, which means that you can hold two children of the same size in this stroller. Additionally, the stroller seat and car seat can sit in both slots, so you can swap them around, if that's what works for your family.
The seats feature five-point adjustable harnesses and footrests that adjust at five different positions. Your child can relax in just the way they want.
The canopy isn't huge compared to others we've tested (check our review of the Graco NimbleLite stroller if you want a large canopy), but it'll keep your baby out of the rain and mostly out of the sun. It doesn't come imbued with UPF, however, so just remember that sunscreen for your child while using this stroller will likely be a good idea.
Parent Experience
Overall, the Pivot Xpand is a reliable and convenient stroller for parents. I liked that the peekaboo window in the canopy wasn't held down by Velcro, which allowed for quick and quiet check-ups on our daughter.
When using both seats at the same time, I did notice that the Xpand was significantly harder to maneuver. It's not wider than other similar strollers, but I did have to take wider turns. However, it's a common issue with expandable strollers, and perhaps just comes with the territory.
It can take some time to learn how to put on the infant seat. It's a little tricky, even when studiously using the instruction manual, to figure out how it connects to the adapters and the rest of the stroller. The second seat goes on very easily, but there's something about the infant seat that makes the design less than intuitive.
This stroller includes ample storage, which is accessible from front and back. The storage basin expands to over 2 feet in length with front and back access for convenience. (We were able to fit a large purse and a bulky coat, or a few bulky shopping bags, just in the base of the stroller!)
You have to hold an unlock button on both sides of the stroller in order to fold it, which means that it does take dexterity and free hands to put this stroller away. However, once folded, the Pivot Xpand is relatively compact – especially for a convertible stroller!
When needed, the stroller is easy to clean, as the seat pad is machine washable. Everything else can be wiped clean with mild soap and water.
Finally, I really like the adjustable handles. The main handle of the Pivot expand can be angled to three different positions, which is great if your partner is taller or smaller than you. My husband is very tall, and I'm only of average height – it's nice to see a stroller that works for both of us!
Evenflo Pivot Xpand – What's in the box?
When I was unpacking the large box this stroller came in, it kept crossing my mind that a more apt question might be what isn't in the box! To support this 22-configuration stroller system, the Evenflo Pivot Xpand comes with the following pieces and accessories:
Stroller frame
Regular seat that converts to infant mode
Removable bumper bar
SafeMax Infant Car Seat
Car Seat Base
Built-in adapters for both upper and lower seat
Parent cup holder
If you're interested, the following extra accessories are available for purchase:
Where to Purchase the Evenflo Pivot Xpand
This stroller is available for purchase on Amazon.
Other strollers from Evenflo
If you're not in need of the entire modular stroller system offered by the Pivot Xpand, you may be interested in these other offerings from Evenflo:
About Evenflo
Evenflo designs products for real-life parents. These include car seats, gates, carriers, strollers, and feeding accessories. They've done so for a century! Evenflo is committed to providing safe products geared towards the wellbeing of children and families. They provide consistent customer care, including video calls! They also include warranties and return periods to ensure your constant peace of mind in regards to their products.
User Manuals and More Information
The Evenflo Pivot Xpand instruction manual and figures booklets can be found on the Evenflo website:
Evenflo Pivot Xpand: Frequently Asked Questions
What car seats are compatible with the Evenflo Pivot Xpand?
The car seats compatible with the Evenflo Pivot Xpand are the most recent car seats from Chicco, Graco, and Peg Perego. The Pivot Xpand can also be used with Evenflo brand car seats.
How do you fold an Evenflo pivot xpand?
You fold an Evenflo Pivot Xpand by activating the frame unlock on both sides of the stroller. You do have to use both hands in order to do it, so just make sure you've set your child down safely before you begin!
Is Evenflo a good brand?
Evenflo is a good brand because it offers reliable, versatile tools to support family safety. The Pivot Xpand is a good example of this, because it offers several different configurations to help it grow with your family.
Is Evenflo's Pivot Xpand compatible with Graco?
Evenflo is compatible with Graco car seats, with the use of an additional car seat adapter (sold separately).