Looking for a comprehensive review of the bonoch baby monitor? You've come to the right place! In this blog post, we will take a look at all of the features of this monitor and see how it compares to other models on the market. We'll also discuss some of the pros and cons of using this product and give you our final verdict. So, without further ado, let's get started!
Our Verdict On The Bonoch Baby Monitor
The bonoch baby monitor is a non-WiFi baby monitor that includes a parent unit and can connect with up to four cameras. We tested with two cameras and found that even with the additional camera, this was the easiest baby monitoring system we have set up so far. After plugging everything in and turning the monitor on, everything automatically connected and we were up and running!
The bonoch baby monitor recently updated this baby monitor, upgraded from a 5 to a 7 inch screen and several more feature improvements. All the basic features that we've come to expect from a video baby monitor are well-executed in this monitor.
Continue reading our review of the bonoch baby monitor for more in-depth information.
Our Rating: 8.6 / 10
Summary
We like:
Easy to install and intuitive navigation, even when using multiple cameras.
Good video quality and a split screen.
Can attach up to 4 cameras at the same time.
Pan and tilt features work great and are very quiet.
We don't like:
No option to flip video when mounted on the ceiling.
Buttons do not light up making them more difficult to use at night.
Where to buy it: check price on Amazon
P.S. We received a review unit of this product from its manufacturer. We are, however, not paid or compensated for our review. To remain impartial in our tests, we use objective ranking factors and put each product in the hands of real parents for a few months before we publish our review. Read how we test to learn more.
Everything that we review is independently selected by our team. We only recommend products that we use ourselves with our kids. To support our website, we may receive a small commission if you buy something through our links. These commissions come at no extra costs for you. Read our earnings disclaimer to learn more.
Alternatives: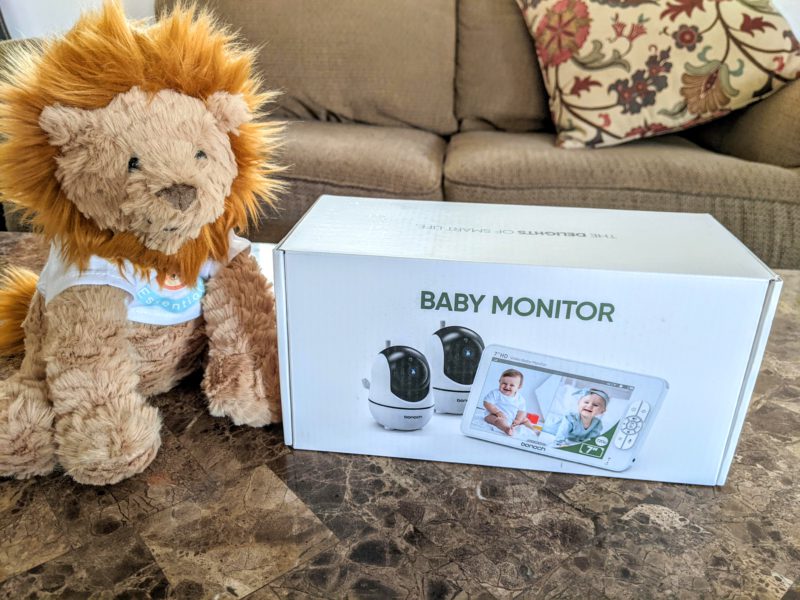 Overview: bonoch Baby Monitor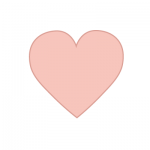 Health & Safety
8/10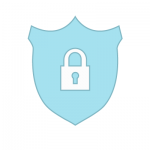 Privacy
9/10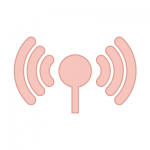 Range
9/10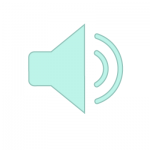 Audio Quality
8/10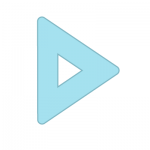 Video Quality
9/10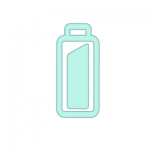 Battery
9/10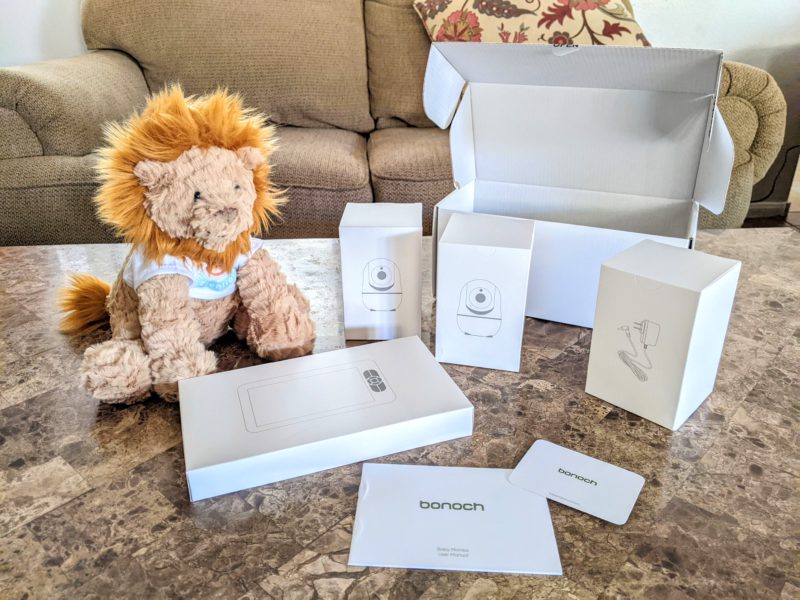 Features: Bonoch Baby Monitor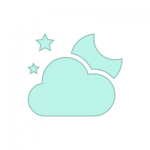 Infrared Night Vision
YES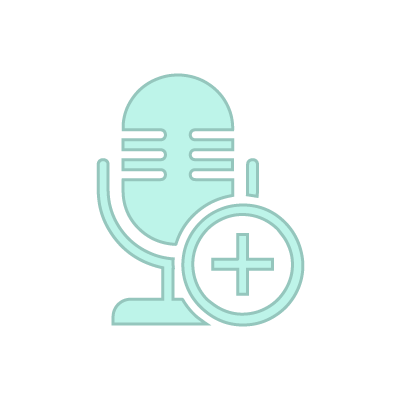 VOX
YES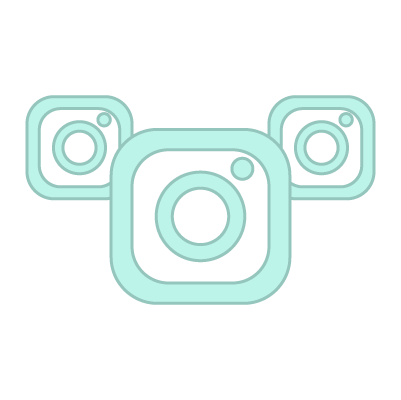 Multiple Camera
YES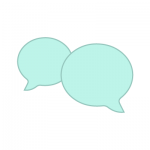 Two-Way Talk
YES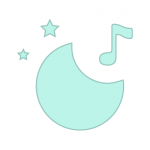 Play Lullabies
YES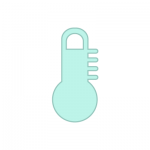 Room Temperature
YES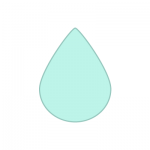 Humidity
NO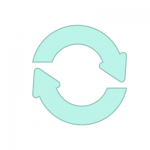 Remote Pan and Tilt
YES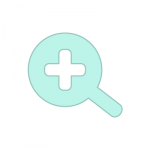 Remote Zoom
YES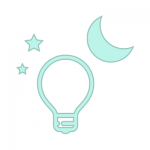 Nightlight
NO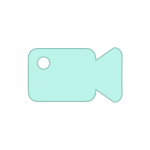 Video Recording & Snapshot
NO
Our Hands-On Review Of The Bonoch Baby Monitor
The bonoch company launched in 2021 and they have a variety of baby products and a few personal care products. Both baby monitors are gaining in popularity and have pretty great customer reviews on Amazon. This hands-on review is of their second version of their baby monitor released with two cameras.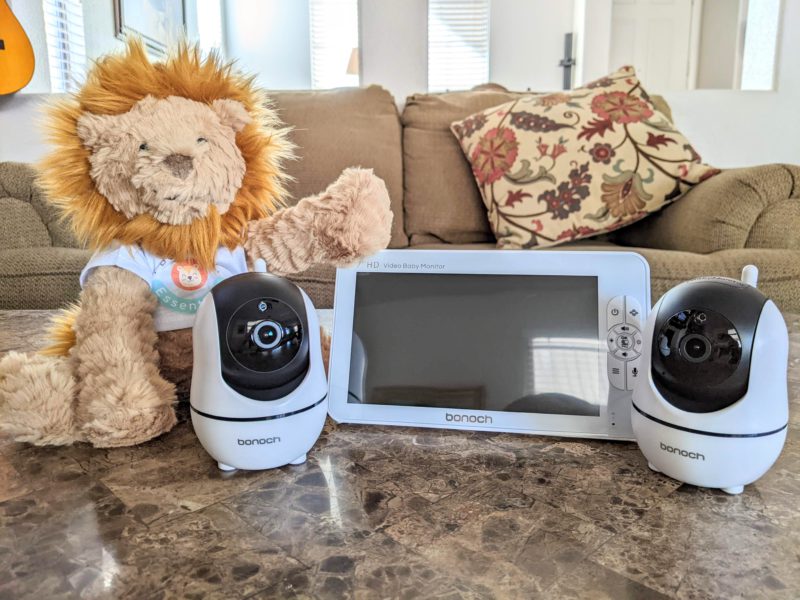 The bonoch baby monitor is a non-WiFi unit that includes a 7″ 720P HD colored screen monitoring unit (aka parent unit). The parent unit includes a kickstand and is light-weight, but does not feel cheap. It does not have an antenna like many similar non-WiFi monitors which makes it sleeker but might limit the range by a small amount.
The monitor is not a touch screen, but is easy to navigate with all the necessary buttons. It allows you to quickly change the volume or brightness, switch between cameras and easily update the settings on the individual cameras. Best of all, the settings are camera specific, allowing you to turn on lullabies or configure different temperature alert settings for each camera.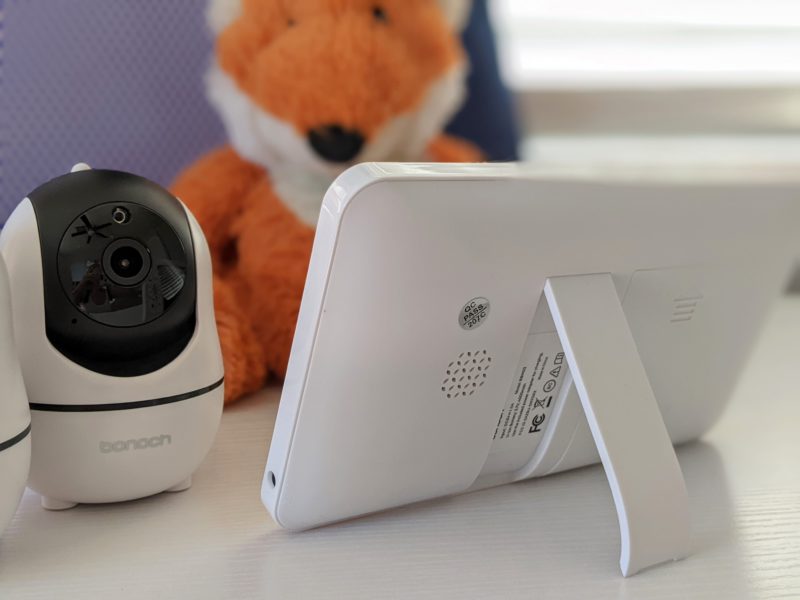 Setting up this monitoring system took less than a minute. Attaching the cameras and set-up was the simplest we have experienced to date: we plugged in both cameras and they were automatically connected to the monitor. Another nice thing is that there wasn't the terrible feedback noise you often experience when the cameras and the parent unit get in close proximity to each other. This was helpful during set-up as we were setting everything up.

Moreover one of the best things we have found about bonoch is that they provide a 1 year warranty and lifetime technical support from a customer service team that we have found to be extra helpful and responsive.
Audio and Video Quality
The 7" HD 720p resolution color screen provides excellent video quality with sharp images, rivaling what we see in the Eufy Spaceview Pro. The image is crisp and clear, even at night. As is the audio quality, with the microphone on the baby unit able to pick up the faintest of sounds. The camera on the bonoch baby monitor offers an excellent night vision feature that provides black and white images on the video monitor even in a pitch dark room, without a red dot or red light from the camera.
The monitor we tested included two cameras, which we were able to configure individually in different areas of the room for more extensive monitoring. The monitor splits the screen, allowing you a side-by-side view of both cameras simultaneously. The monitor can connect up to four different cameras in different rooms.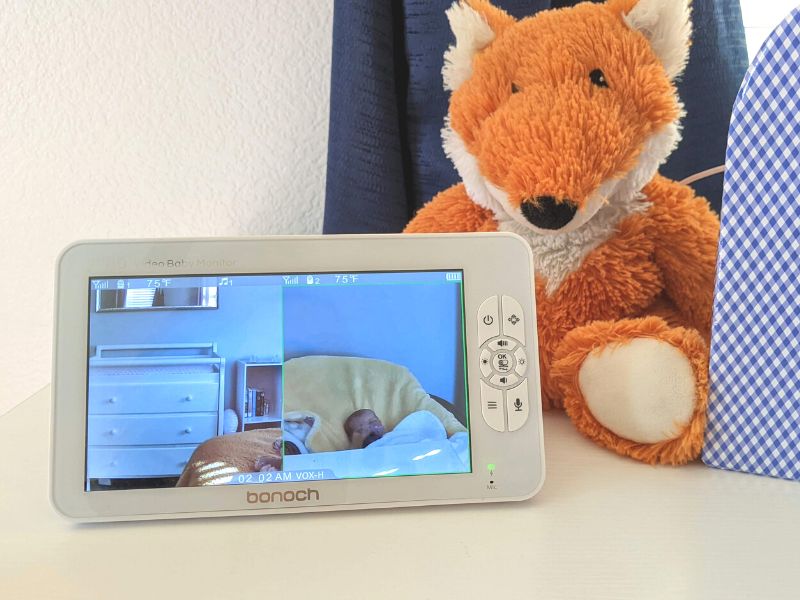 While you can see multiple cameras at a time, you can only hear sound from one camera at a time. You can't easily change the display order on the monitor, but can get around this by configuring the cameras in the order you want them to appear on the monitor.
The bonoch baby monitor is a wide angle lens giving you a 70 degree field of view. Additionally, the cameras have one of the quietest pan and tilt features we have tested so far. This is important when trying to make adjustments while not disturbing a sleeping baby. It is able to pan 355 degrees and tilt up to 120 degrees, allowing you to see much of your nursery. There is no need to purchase or change lenses to get the field of view you are looking for as it also includes a 2x and 4x zoom.

One of our biggest issues with the camera is that it can only be mounted on a shelf or table, and cannot be mounted on the ceiling because it does not properly invert the image. However, we were able to overcome this inconvenience by installing a small shelf on the wall. We recommend always having the camera unit be at least six feet away from the baby for safety reasons (read more about safe distance from a wireless baby monitor).
Signal Strength
The bonoch baby monitor is one of the best long-range baby video monitors in our tests. The range is fantastic and can reach up to 1000 feet (305 meters) outside or 100 feet (30 meters) inside with up to four walls separating you from your baby. Depending on your house's layout, you might be able to sit outside and still receive the signal from your baby's bedroom.
The bonoch monitor does not use WiFi, and instead is wireless and uses radio frequency, specifically a closed-loop 2.4GHz FHSS connection, to stream video, ensuring a secure video that only you can see and no one else can hack in. There is no need to download a separate app or pay additional subscription fees.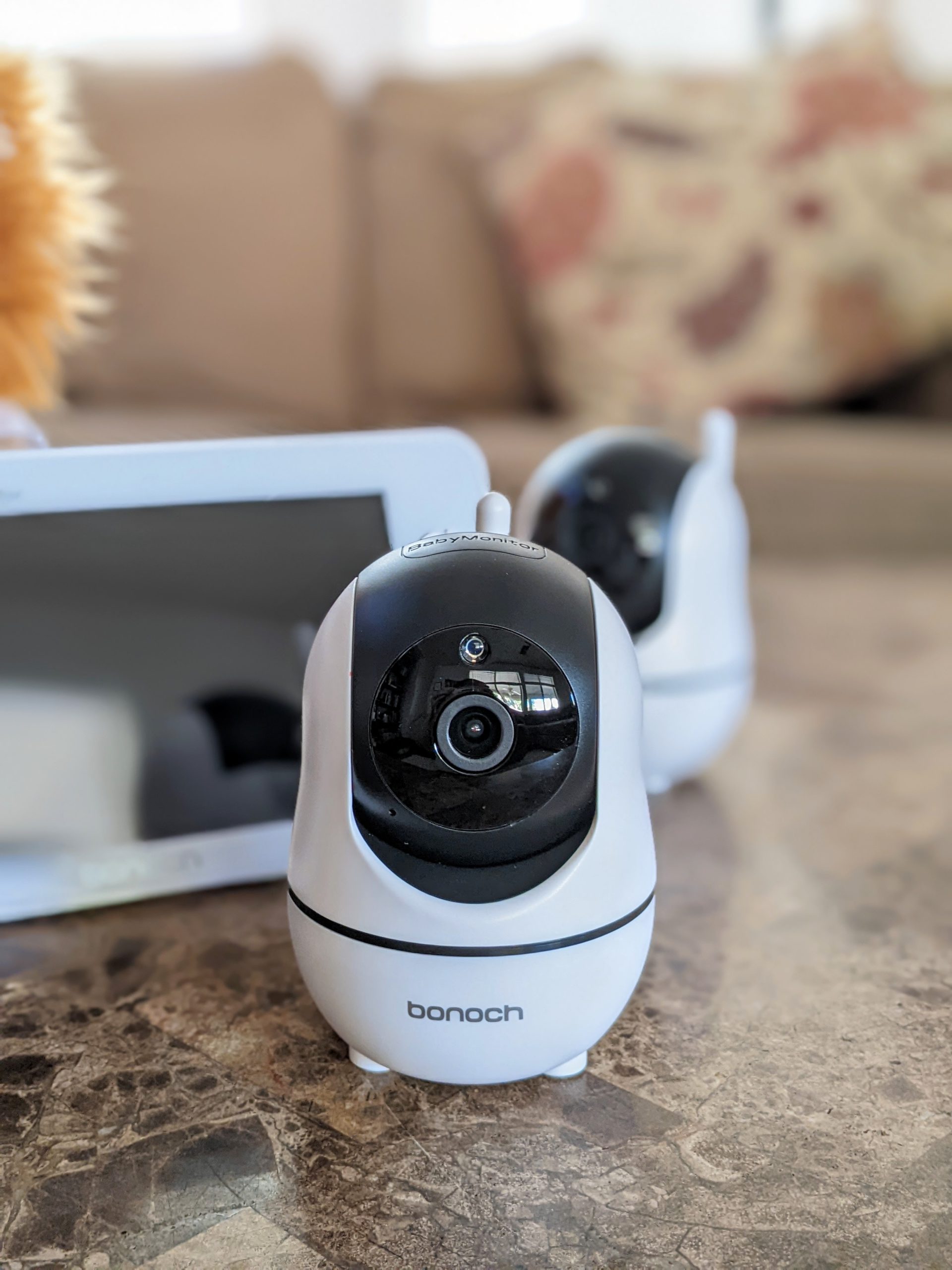 Other Great Features
You can also easily switch from one camera to the next and make individual configuration changes. The picture quality on the display itself is great but with a 720P HD resolution, it's a little lower than some of the 1080P HD resolutions we see.
There are 8 pre-recorded lullabies available to play on the bonoch baby monitor. This is becoming a standard in baby monitors models, and we love the variety of options to choose from. Each camera can play a different lullaby and the sound can be set for a specified amount of time (15 minutes, 30 minutes, 60 minutes or on repeat) and at a specified volume (low, medium or high). Some parents found the lullabies a little "digital", and they reminded us a little of old school Fisher Price toys.
The bonoch baby monitor includes an option to talk to your child through its speaker. The two-way talk function can easily be accessed by pressing and holding the microphone button on the parent monitor. The sound only goes to the camera that is currently selected, so you don't risk waking up your child in the other room if you have multiple cameras set up.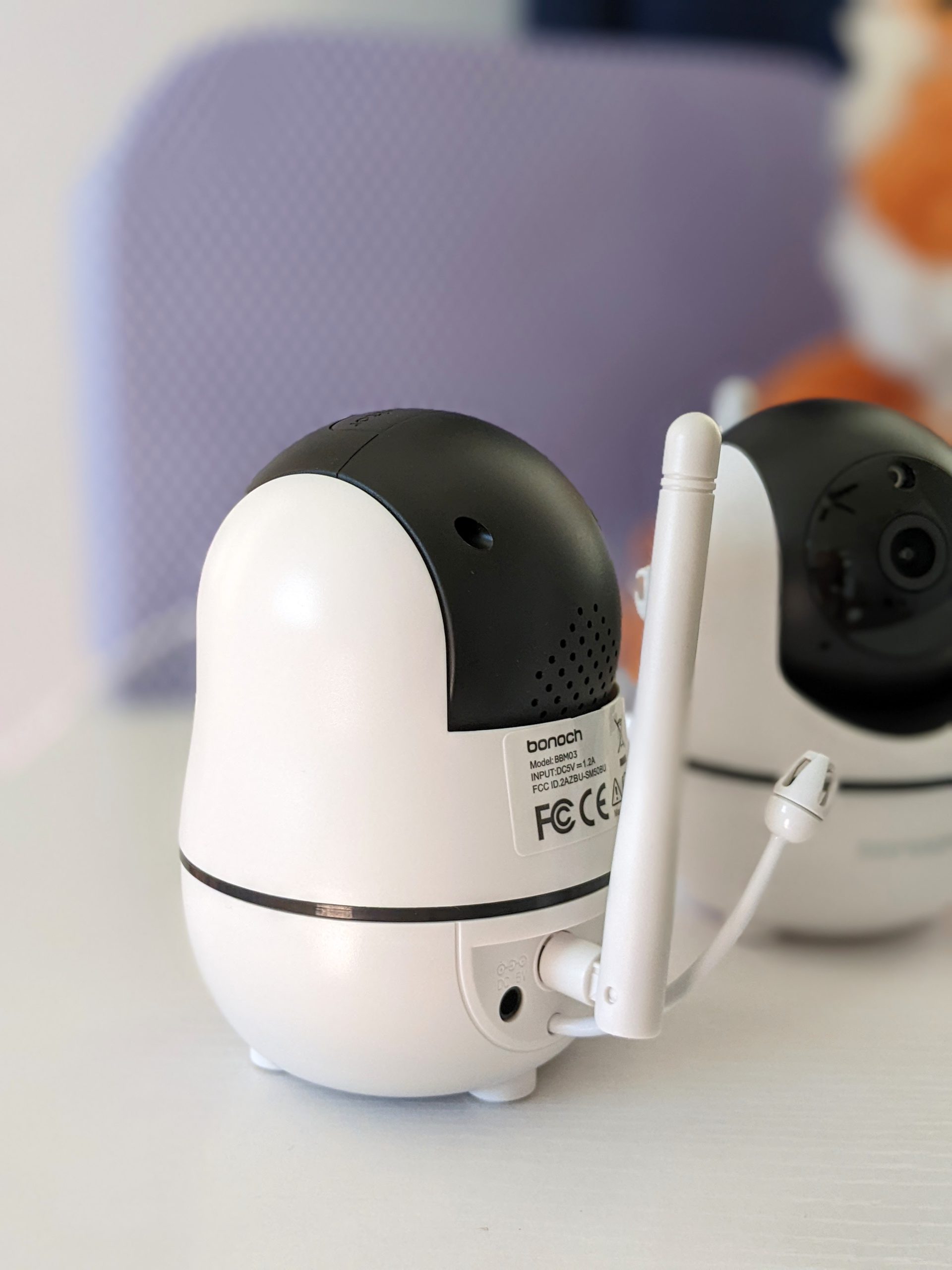 The bonoch baby monitor also comes with a built-in room temperature indicator in both Fahrenheit and Celsius. It displays the temperature in each room and is handy for ensuring your baby's room is comfortable and might help avoid cases of SIDS. The bonoch baby monitor also includes an alert system if the cameras sense that they have gone out of the configured acceptable temperature range and allows you to set a low temperature and high temperature alert for each camera.
One of the most helpful settings of the bonoch baby monitor is VOX mode with three different levels of sound sensitivity to choose from when turned on. VOX stands for voice-operated exchange, and when turned on the microphone is listening for sound and turns the monitor on when it reaches a certain threshold. This allows the monitor to stop transmitting to save battery if it is quiet in the baby's room. In VOX mode the screen will turn on when it detects a sudden noise, like crying or shouting from the baby, letting you know instantly.

One feature we are still wrapping our head around, is the alarm timer. Many new baby monitors include this feature and allow you to set notifications for feedings, diaper changes, nap time and more. However, we have been hesitant to use this feature in case schedules get a little off because we didn't want the alarm going off unnecessarily.
Battery Life
The bonoch monitoring unit (aka parent unit) includes a removable pre-installed 4,000mAh rechargeable battery. In our testing, the battery life on the bonoch monitor was enough to be used unplugged during nap time and when your baby goes to bed in the evening until you go as well, about six to eight hours in total with the screen on. You can bump that up to 12 hours with the screen on standby. Therefore, we recommend plugging it in overnight and when not moving it around.
Security: Bonoch Baby Monitor Hacking
Because the bonoch baby monitor uses an encrypted FHSS radio signal, risks of hacking and security breach are minimal. It's impossible for someone to hack into the bonoch via your WiFi connection, they would need to be within signal range. They would also need to be able to decrypt the secured signal.
Health and Safety: Bonoch Baby Monitor
The bonoch cameras connect to the parent unit through a wireless 2.4 GHz FHSS connection. It means that an electromagnetic field (EMF) will be constantly emitted from the camera to the monitor in order for you to receive an audio and video feed. We recommend that you read our article on electromagnetic field if you want to understand what it means in terms of health and safety for your baby.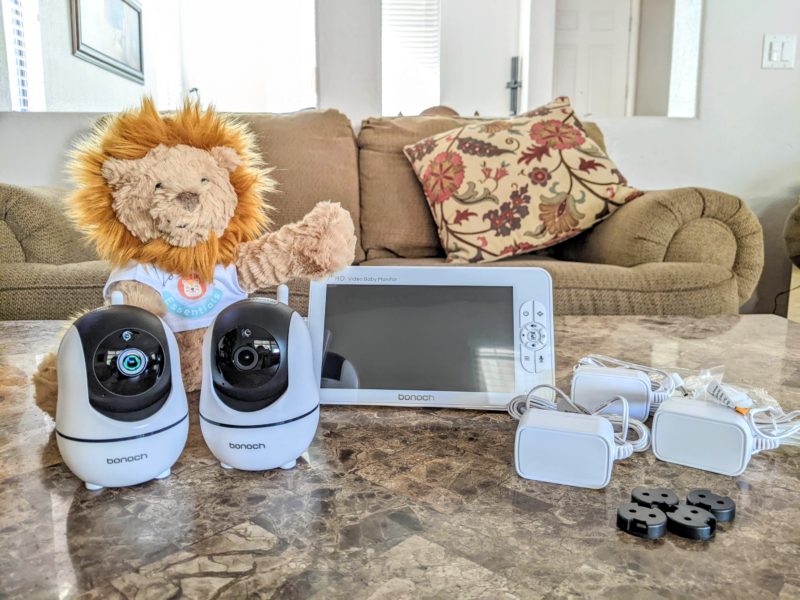 Bonoch Baby Monitor: What's In The Box
Wondering what's in the bonoch box? Here's everything that will be included in the bonoch baby monitor package:
1 x Parent monitor unit
2 x Baby camera units
2 x AC power adapter for the cameras
1 x AC power adapter for the parent unit
4 x Screw sets
4 x Black wall mount
1 x User manual
Bonoch Baby Monitor Price
You can get the Bonoch Baby Monitor on Amazon, with the best price that we've seen online at the moment.
Bonoch Baby Monitor User Manual
You can view the bonoch baby monitor user manual here.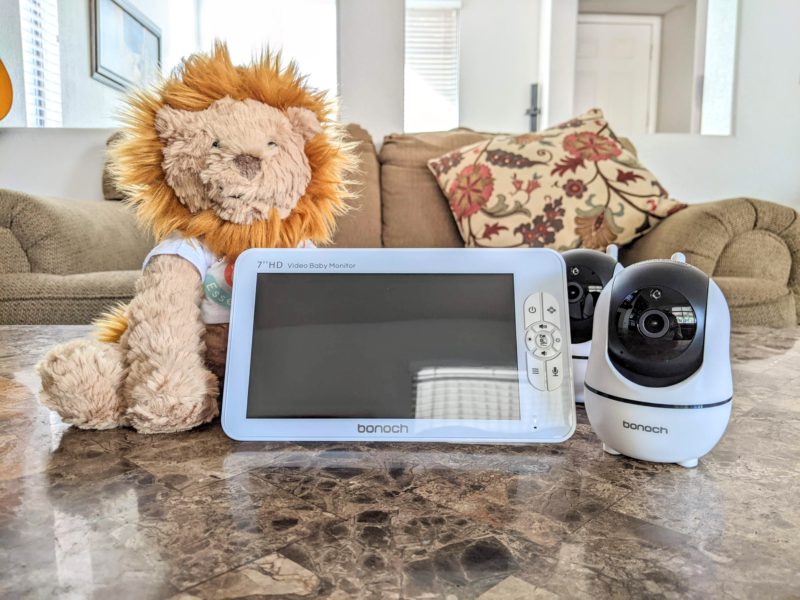 Bonoch Baby Monitor: Most Frequently Asked Questions
Question: Can I see more than one camera at a time in split-screen?
Answer: Yes. The bonoch baby monitor has a split-screen mode allowing you to view more than one camera at a time.
Question: How do you change the viewing camera when using multiple cameras with the bonoch baby monitor?
Answer: Press the OK button on your parent monitor to quickly cycle through each paired camera.
Question: Can I hear the audio from all the cameras at the same time?
Answer: Yes. You can hear the audio from more than one camera at a time. You can also configure each camera separately.
Question: Do I need to install an app with the bonoch baby monitor?
Answer: No. The bonoch baby monitor is not a WiFi baby monitor, so you will not need to install an app on your smart device. Instead the product includes a parent unit to see and hear your baby. Have a look at our review of the best WiFi baby monitors if you want to be able to pair it with your iPhone or Android phone.
Question: Can it be voice-activated?
Answer: Yes. The bonoch baby monitor has a VOX mode where you can configure the level of sound you want to activate the monitor screen while keeping the audio on.
Question: Can I speak to only one camera at a time?
Answer: Yes. When you use the two-way communication feature, your voice only goes to the camera that is currently selected.
Question: Can the bonoch baby monitor cameras be purchased separately?
Answer: Yes. You can use up to four cameras in total with your parent monitor. You can purchase the additional add-on cameras here.
Question: Can I pair one camera with two receivers?
Answer: No. You can pair up to four cameras with one receiver, but not the other way around.
Question: What is the bonoch baby monitor warranty?
Answer: The bonoch baby monitor comes with a standard one year warranty. We recommend you contact them if you experience any issue with your model after purchase.
Question: How can I contact bonoch's customer service?
Answer: You can email their support team from anywhere in the world at support@bonoch.com or just visit their website. Their email support center should get back to you within 24 hours.